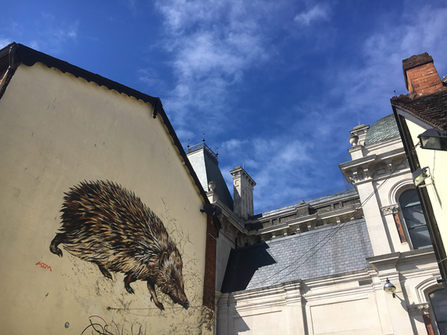 Making Ipswich the most hedgehog friendly town in the UK – originally formed as a two-year project funded by Heritage Lottery Fund and British Hedgehog Preservation Society, but we are still working towards this aim! You can keep up to date with our hedgehog activities by following our project blog and twitter @ipswichhogs
The aim of our work in Ipswich is to raise awareness about the threats hedgehogs face and promote easy actions that everyone can take in their own gardens, streets and neighbourhoods. We hope to create a network of hedgehog friendly streets and green spaces across the town and better understand the distribution and ecology of this declining species.
Hedgehog champions play a crucial role in building our hedgehog network and are using a range of approaches to link up whole streets of gardens with Hedgehog Highways. From writing letters to neighbours, giving talks, running stalls and conducting hedgehog surveys, there are all sorts of ways champions can get involved. Find out more about becoming a hedgehog champion:
By holding talks & community events we hope to promote action across town. We run evening talks, family activity days, night safaris, training workshops and community hedgehog surveys. Check out our What's On and follow Suffolk Wildlife Trust in Ipswich facebook page to find out more.
We run courses for land managers, planners, ecologists and businesses and have produced online guidance for hedgehogs in a development context. We run the PTES/BHPS authored Hedgehog Ecology & Management for Practitioners course and run bespoke free training for grounds teams and housing associations in Ipswich.  By working closely with our planning team we are promoting hedgehog permeable fencing in development plans & hope to work with fencing contractors and landscapers to activity promote hedgehog-friendly garden features across the town.
Head here to find out how you can help and follow our project blog to keep up to date with our hedgehog activities!
By holding assemblies and activity sessions across Ipswich we hope to enthuse the next generation to help hedgehogs!  You can download our Hog Spotter Activity Jotter for children and families here.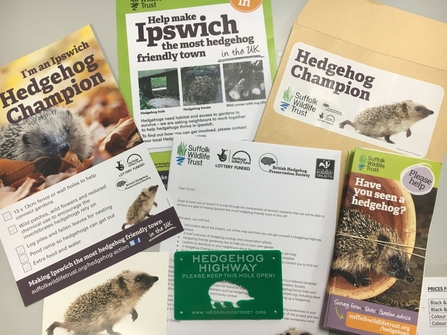 Want to help but don't live in Ipswich? We now have electronic packs to help you spread the word across Suffolk. Get in touch for more information!
Creating a street by street network of hedgehog friendly streets across Ipswich
By recruiting Hedgehog Champions who will encourage neighbours to manage their gardens for wildlife, we hope to create a network of Hedgehog Highways across town. Champions will receive a resource pack to help them with this task, and can borrow trail cameras and survey tunnels to help monitor their 'hogs. We hope all champions (and their neighbours) will log their hedgehog friendly garden on our online map. 
Send a photo of your hedgehog fence holes to hedgehogs@suffolkwildlifetrust.org to recieve a free Hedgehog Street Hedgehog Highway plaque to display on your fence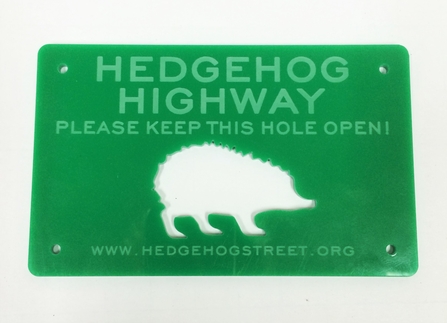 We will provide a free set of Hedgehog Highway plaques to mount above hedgehog holes made along your street - just send us a photo and encourage your neighbours to do the same.
Hedgehog Community and Education events Volunteer
Help us run our hedgehog community and education events around Ipswich. Events range from hedgehog craft afternoons, family nature trails, hedgehog stalls, small mammal survey mornings, Night Safaris, and activities in local primary schools. Help will be needed with general event running and setting up, as well as chatting to attendees about our project and how they can help hedgehogs. All training provided. Please email our Ipswich Hedgehog Officer Ali to recieve a volunteer registration form: hedgehogs@suffolkwildlifetrust.org
Hedgehog survey volunteer
Help us survey hedgehogs in green spaces around Ipswich. Do you belong to a community group, or are you just interested in learning how to monitor for hedgehogs in your local patch? We are looking for volunteers to run footprint tunnel surveys for us across Ipswich - all equipment and training provided. Please email Ali to register your interest: hedgehogs@suffolkwildlifetrust.org