Pondemonium at Easton Farm Park, a magical May Fayre, and a scorching Suffolk Show
Aside from the regular day-to-day education work I've been doing in and around Ipswich parks with tiny tots, families and teens, we've also had a handful of big events already this season, which were great fun to be a part of.These have varied in their style and feel, but all have aimed to reach higher numbers in a single day that we can usually, often with a short but memorable experience.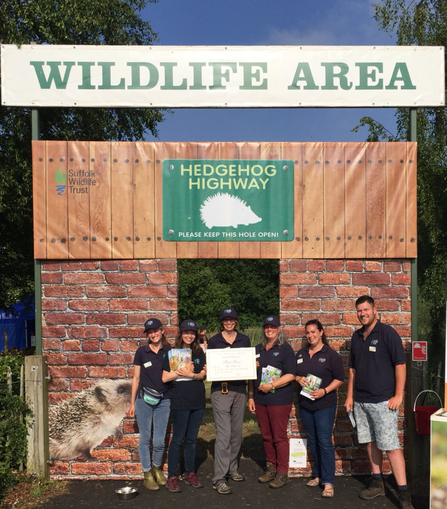 All teachers will appreciate the value of regular and focused learning opportunities for groups of young people, be it through a series of school trips to the same beach, or a monthly Wildlife Watch activity day at a park, but I hope the one-off interactions we have with people at these bigger events around the county can be just as meaningful.
The first event was last month at Easton Farm Park, where over 1000 Girl Guides, (including younger groups of Rainbows and Brownies) gathered for a day of wild activities, which included pond dipping with our team.  Pond dipping is a big hit with children and adults of all ages, and we estimated we saw around 400 children that day, who all had the chance to dip a net into the pond and identify some freshwater invertebrates. Even the Guide Leaders were fascinated – by the dragonfly larvae, water scorpions and shrimps – with one retired 'Brown Owl' having a go for the first time in her life, and loving every minute! It was wonderful to see her joy so evident.
Next up, the Foxburrow Farm May Fayre. It was my first year attending this event and I loved the scene of rustic farmyard charm, mixed with the vibrant sights and sounds of the Morris dancers and performers. It was a magical mixture of wildlife, music, storytelling, crafts, games and delicious homemade cakes. I can now say I have acted out the Gruffalo story with a group of excitable children at our theatre 'stage', complete with very convincing animal voices and cuddly toy props! It was great fun to see the children brimming with imagination and pretending to be their favourite forest creatures.
Pond dipping featured once again, this time with family groups, and at the end of a busy day one interaction stuck in my mind. Between our sessions I snuck a lovely family into our pond area, to have a quick look at our tank of dragonfly larvae. Once we got talking I was touched to hear their story, of the death of two babies in their young family, and how their love of nature and wildlife had been therapeutic in coming to terms with it. That day their little boy found comfort in learning about the short life of the adult dragonflies, on the wing for a few brief weeks after years developing under the water. I felt lucky to have played a small part in their journey and it really brought home how such brief interactions can have unexpected impacts.
Finally the Suffolk Show last week; a whole order of magnitude bigger, and an opportunity to interact with a huge audience and spread the word about our work. I was lucky enough to spend two days meeting and greeting our visitors, to explain the theme of our wildlife area this year, which was around our '30 days wild' campaign. We challenged thousands of people over the 2 days to do something wild every day in June, giving lots of ideas from the simple to the sublime. From planting the wildflower seeds we gave out, to encouraging barefoot walking in long grass, to listening to summer birdsong… we hope we inspired people to enjoy a little slice of nature every day in June. I loved one 10 year old's idea to canter a horse through a forest, and another's to try and see a hedgehog every night because he loved them so much! We won first prize in the environment and countryside category after the first day, so I think people really liked it. I certainly did.
I'm really looking forward to volunteering at some other big events this summer. And I'm also thinking more about framing these days as opportunities to have an impact, in more ways than one. Engagement? Yes, definitely. Learning? We hope so. But they're also our opportunity to give people an experience which can be unique and special to them, whatever their age and circumstances. I hope everyone's encounter with the Trust can be meaningful on some level, and hopefully a lot of fun too!