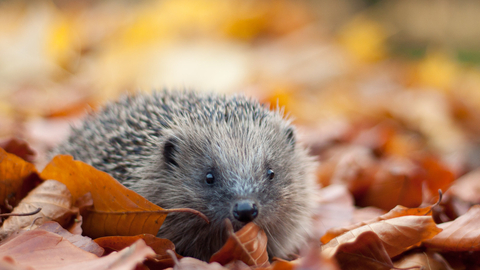 Wild Skills: Hedgehog care and conservation for 11 - 16s
Location:
Holywells Park,
The Stable Block,
Ipswich,
Suffolk,
IP3 0PG
Discover the work behind caring for sick and injured hedgehogs and learn how you can help conserve hedgehogs across a series of courses as part of our Wild Skills Mentorship.

Suffolk Wildlife Trust and Suffolk Prickles Hedgehog Rescue is offering Young people aged 11 – 16 the chance to gain an insight into the different care requirements needed to look after sick and injured hedgehogs learning about the work that centres such as Suffolk Prickles delivers. You will have the opportunity handle hedgehogs and to also visit Suffolk Prickles Hedgehog Rescue centre seeing where it all happens.

On one of the last instalments of the mentorship, you will learn how important conservation techniques are to help hedgehogs and you will become a Suffolk Wildlife Trust Hedgehog Champion promoting Suffolk Wildlife Trust's values and aims.

Please note, that whilst you will get a closer than ever look at hedgehogs and hands on experience, with the chance to administer care to hedgehogs under the careful guidance of Paula from Prickles, the knowledge learnt regarding hedgehog care and handling is to only be carried out with a trained professional.

The conservation techniques and message, such as the importance of habitat creation and connectivity, learnt on this course will arm you with all the knowledge you will need to put into practice and encourage your friends, family and neighbours to be more hedgehog friendly.
Event details
About the event
The Course dates, locations and times are; 
February 16 Holywells Park, 1.30pm - 3.30pm; Introduction to hedgehog care  
May 10 - Holywells Park, 1.30pm - 3.30pm; Intermediate hedgehog care 
July 12 - Suffolk Prickles Hedgehog Rescue Centre, 2.00pm - 4.00pm; Visit to rescue centre. 
(A chance to meet several different hedgehogs and to help care for and clean out hedgehogs).  
October 11 - Holywells Park, 1.30pm - 3.30pm; Hedgehog conservation
(Learn how to build a hedgehog home, the importance of hedgehog highways, how to survey for Hedgehogs and more). 
This course is designed for unattended children of 11-16 years, £40 for all four courses. 
Booking
Price
£40
Suitable for
Children