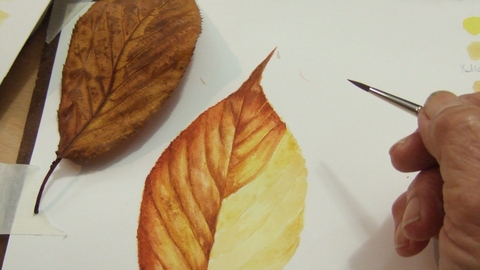 Capturing the Seasons - Field Sketchbook workshop - Shades of Autumn
Location:
Carlton Marshes, Burnt Hill Lane, Carlton Colville,
Lowestoft,
Suffolk
Carlton Marshes: Discover how to create a field sketchbook to record the signs of the season,
About the event
With botanical and wildlife artist, Ruth Wharrier. This Monday course will focus particularly on Autumn colour and is designed to enable you to create your own naturalist's sketchbook and have the confidence to go out and draw! Workshops can be taken individually as one- or two-day sessions (Saturday and/or Monday), or as a full course with seasonal dates scheduled across the year (March 21 & 23; June 20 & 22; September 19 & 21; November 21 & 23). The focus will be on observational sketching techniques that can be used outside whilst walking and also on detailed drawing techniques that can be used back at home. 
Based at Carlton Marshes, the course will allow participants the opportunity to observe and record the changing seasons within this stunning reserve. The centre at Carlton Mashes offers an inspiring setting with enviable views out across the marshes and reed beds. 
COVID-19 INFORMATION
In order to run activity sessions safely while the COVID-19 pandemic is still in effect, there are a number of restrictions put in place, which are in the best interest of our participants, staff and volunteers. We appreciate you following the guidelines we have set out.
More detailed information will be outlined in your confirmation email once you have booked onto this course, however, it is important that you read and agree to the following information before you book.
During the session you will be required to socially distance at the Government recommended 2m. 
All participants will be required to use sanitising hand gel on arrival. This will be provided and will be available for you to use at any additional points during the day, should you wish to. 
If you are showing ANY signs or symptoms of COVID-19, or you have been told by NHS Track and Trace to isolate, you must not attend this event.
You are welcome to wear a mask in the centre, but this is not mandatory.
All equipment used on the day will be cleaned before and after use and where possible everyone will have their own set of tools for the duration. 
We will unfortunately be unable to serve refreshments. Please feel free to bring your own drinks. Thank you for your understanding.
For anyone wishing to take the workshops in November but unable to attend, we are working on offering the classes online via Zoom. Please contact us on wildlearning@suffolkwildlifetrust.org if you would be interested.
Please also bring:
A packed lunch
A range of drawing pencils
Sharpener
Eraser
Putty rubber
Drawing pens e.g. Uni pin 0.05, 0.2, 0.5
An A4 sketchbook with smooth cartridge paper suitable for line and wash.
Tracing paper
Watercolours (optional).
YOU WILL NEED A PACKED LUNCH. 
Ruth studied Botanical Illustration at The Chelsea Physic Garden, London. She exhibits widely and examples of her natural history illustrations can be seen on the tourist information boards on Pakefield Cliff, Suffolk. Ruth paints in watercolour on paper, vellum and wood. She also creates etchings and works in pen and ink. Ruth is regularly commissioned to decorate harpsichords, for international clients, with flora and fauna using historical painting techniques.
Click on the link to see examples of Ruth's exquisite work: www.ruthwharrier.com
Please bring with you: A range of drawing pencils Sharpener Eraser Putty rubber Drawing pens e.g. Uni pin 0.05, 0.2, 0.5 An A4 sketchbook with smooth cartridge paper suitable for line and wash. Tracing paper Watercolours (optional).
YOU WILL NEED A PACKED LUNCH. Tea, coffee & biscuits are provided and included in the course fee.
When booking please ensure your email/contact address is correct as it will be used to send event joining instructions. If you do not receive these instructions after booking, please contact: wildlearning@suffolkwildlifetrust.org
Please note that your booking is non-refundable and non-transferable and we run all our courses based on a minimum number of participants. You can find our full Terms & Conditions via this link:  https://www.suffolkwildlifetrust.org/wildlearninginfo
If any of the courses you wish to attend are full or you cannot make the date, please let us know so that we can register your interest and let you know of future opportunities or add your name to a reserve list. You can contact us on: info@suffolkwildlifetrust.org or Tel: 01473 890 089.
If you'd like to purchase a Voucher for future courses for yourself or as a gift, you can do so via our online shop at www.suffolkwildlifetrust.org.
Know before you go
Mobility
People with limited mobility please contact organiser in advance
Wheelchair access
Wheelchair users please contact organiser in advance
Parking information
Free parking
More adult courses coming soon: