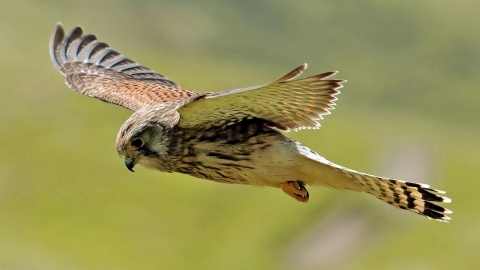 Wildlife Live Webinar - Falcons
Location:
Online event,
Zoom webinar
A journey into the life of British falcons, including the kestrel, hobby, merlin and peregrine.
About the event
Experience birder and tutor, Paddy Shaw, will reveal the magic of these incredible raptors, their habits, habitats and distinctive features. You will be guided on when and where to see each bird and how to identify them when you are there. You will have the opportunity to ask questions about their diet, their breeding patterns, the secrets to their success in the Suffolk countryside and where to spot them.
This Wildlife Live Webinar is part of a series of online events on a range of wildlife topics. It is scheduled to last approximately one hour plus a questions & answers session. Suffolk Wildlife Trust uses the Zoom platform for its Webinars and, when you book, you will receive simple instructions on how to join the event from the comfort of your own home. When booking, please do input the email you will be using on the night.
The Falcons webinar will provide a taste of the morning's online Birds of Prey course scheduled for Saturday, February 13th (10am-1pm), with Paddy, via Zoom. To find out more and book your place, please follow this link:  https://www.suffolkwildlifetrust.org/events/2021-02-13-webinar-birds-prey-course-online
We are offering a discount on the course for attendees of the Falcon Webinar (please use the same email when booking).
TO AVOID DISAPPOINTMENT, WHETHER PAYING BY PAYPAL OR CREDIT CARD, PLEASE ENSURE YOU SCROLL DOWN TO FILL IN THE BOOKING FORM AND COMPLETE YOUR BOOKING BY PRESSING THE ORANGE 'PLACE BOOKING' BUTTON 
Future Webinars taking place with Suffolk Wildlife Trust