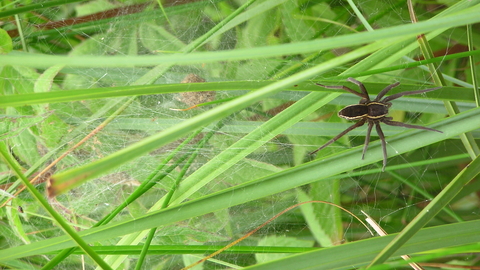 Wildlife Live Webinar - Fen Raft Spiders
Location:
Online event,
Zoom webinar
An insight into the incredible watery world of the Fen Raft Spider, which is holding strong in Suffolk despite falling numbers.
About the event
Big, bold and beautiful, our internationally endangered Fen Raft Spiders have a great story to tell, much of it rooted in Suffolk. Since they were first formally described in Britain - at Redgrave and Lopham Fen in 1956 - remnant populations have been found at only two other sites. To reduce their extinction risk, new populations have been established at four Broadland sites since 2010, two of them Suffolk Wildlife Trust reserves. This Wildlife Webinar Live will cover the enigma of their history in Britain, and the story of their decline and newly found success.
Helen Smith is a converted plant ecologist who has spent nearly 30 years monitoring and studying Fen Raft Spiders and helping to fight their corner. As her spidery interests broadened she became engaged in wider issues of spider conservation. A former president of the British Arachnological Society, she is currently its conservation officer, and also serves on the International Union for Nature Conservation's (IUCN) Spider and Scorpion Specialist Group. Helen is an author of the best-selling WildGuide Britain's Spiders, as well as On the Margins, a book dedicated to the story of Fen Raft Spiders at Redgrave and Lopham Fen. You can find more information about Helen's work and the Fen Raft Spider via the Fen Raft Spider Conservation website: www.dolomedes.org.uk 
This Wildlife Live Webinar is part of a  series of online events on a range of wildlife topics. It is scheduled to last approximately one hour plus a questions & answers session. We use the Zoom platform for our Webinars and, when you book, you will receive simple instructions on how to join the event from the comfort of your own home.
TO AVOID DISAPPOINTMENT, WHETHER PAYING BY PAYPAL OR CREDIT CARD, PLEASE RETURN TO COMPLETE YOUR BOOKING BY PRESSING THE ORANGE 'PLACE BOOKING' BUTTON. YOU WILL NEED TO SCROLL DOWN TO COMPLETE THE ENTIRE FORM WITHIN THE ONSCREEN BOX. 
Booking
Price
Suggested donation £3/£5/£10
Future Webinars taking place with Suffolk Wildlife Trust