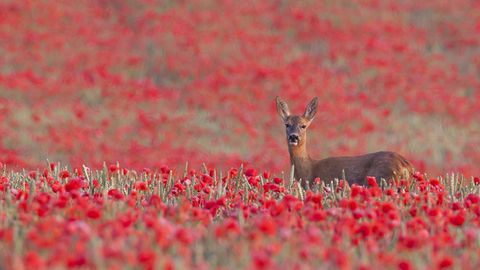 Wildlife Live Webinar - Suffolk through the seasons - a wildlife photographer's year
Location:
Online event,
Zoom webinar
Take a tour of Suffolk's wonderful countryside, coastline, rivers and woods through a photographer's lens.
About the event
Kevin Sawford, the award-winning photographer, will take us on a journey through the seasons of Suffolk's incredible wildlife. He will reveal his tips and advice on where, when and how to capture wildlife at its best in Suffolk's varied scenery throughout the different seasons of the year. This online event will inspire and support any budding photographers, and enthrall any lovers of nature as Kevin shares the beautiful photographs he has taken on his travels in the county.    
This Wildlife Live Webinar is part of a series of online events on a range of wildlife topics. It is scheduled to last approximately one hour plus a questions & answers session. Suffolk Wildlife Trust uses the Zoom platform for its Webinars and, when you book, you will receive simple instructions on how to join the event from the comfort of your own home. When booking, please do input the email you will be using on the night.
TO AVOID DISAPPOINTMENT, WHETHER PAYING BY PAYPAL OR CREDIT CARD, PLEASE ENSURE YOU SCROLL DOWN TO FILL IN THE BOOKING FORM AND COMPLETE YOUR BOOKING BY PRESSING THE ORANGE 'PLACE BOOKING' BUTTON.
Booking
Suggested donation
Suggested Donation - £3/£5/£10

Future Webinars taking place with Suffolk Wildlife Trust