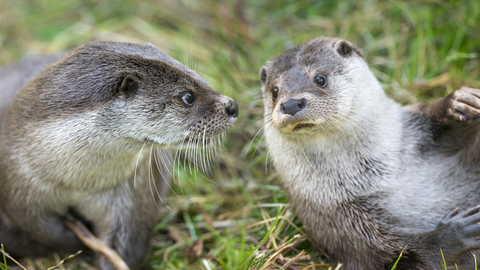 Wildlife Live Webinar - Otters in Suffolk
Location:
Online event,
Zoom webinar
Enjoy a wonderful evening discovering more about the lives of these magical creatures, with Meg Amsden and Nicky Rowbottom
About the event
Who would have guessed that 8 or 9 otters currently call Lackford Lakes home? Or that an otter goes through Halesworth on average every other night? Or that 30 otherwise-normal people could spend several happy years collecting, washing and studying otter poo?
Otters pass up and down our streams and rivers and know them like the back of their paws - but we rarely see them because they're mostly active at night. Trail cameras have brought a revolution to our understanding of where these elusive animals are and what they get up to.
Using first-hand data, photos and video clips from volunteers across the county we'll tell some of the story of otters in Suffolk. How we nearly lost them completely and how they're doing now. 
Meg Amsden and Nicky Rowbottom are members of one of Suffolk's otter groups, and will share some of the highlights of recent years.
Nicky moved to Suffolk in 1989 when the Wildlife Trust employed her as head of education. After 10 years there and 23 years freelance work in conservation education and interpretation in UK and abroad - she is now retired and has much more time to study otters. 
Meg's career has been devoted to environmental arts and interpretation. A film-maker and puppeteer, she created extraordinary and memorable puppet shows for the Broads Authority for more than 20 years. Meg lives almost in the Blyth estuary!
This Wildlife Live Webinar is part of a series of online events on a range of wildlife topics. It is scheduled to last approximately one hour plus a questions & answers session. Suffolk Wildlife Trust uses the Zoom platform for its Webinars and, when you book, you will receive simple instructions on how to join the event from the comfort of your own home. When booking, please do input the email you will be using on the night. Subtitles are available.
TO AVOID DISAPPOINTMENT, WHETHER PAYING BY PAYPAL OR CREDIT CARD, PLEASE ENSURE YOU SCROLL DOWN TO FILL IN THE BOOKING FORM AND COMPLETE YOUR BOOKING BY PRESSING THE ORANGE 'PLACE BOOKING' BUTTON.
Booking
Suggested donation
£3/£5/£10
Future Webinars taking place with Suffolk Wildlife Trust