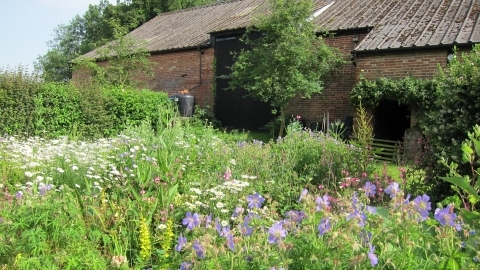 Wildlife Live Webinar - Gardening for Wildlife
Location:
Online event,
Zoom webinar
Be inspired to create your own wildlife garden and discover how to make the most of your own little area for nature
About the event
Cathy Smith, Learning Officer with Suffolk Wildlife Trust, has many years of experience in improving habitat for wildlife and implementing successful garden projects at home and at the Trust's Foxburrow Farm reserve.
She will guide you on how to factor in wildlife when planning for your garden, how with small adjustments you can make a significant difference to many different species. This webinar will cover planting to attract butterflies and pollinators and to provide shelter for many precious species; and how to incorporate simple yet valuable features into your garden such as small ponds, overgrown areas and natural hedgehog or insect homes.
Many important species are under threat in the county and if all of us do a little bit for wildlife, even in just a small patch of our garden, we can make a huge difference to birds, insects, amphibians, mammals and wildflowers alike. This webinar will provide you with the practical knowledge you need to get started. 
This Wildlife Live Webinar is part of a series of online events on a range of wildlife topics. It is scheduled to last approximately one hour plus a questions & answers session. Suffolk Wildlife Trust uses the Zoom platform for its Webinars and, when you book, you will receive simple instructions on how to join the event from the comfort of your own home. When booking, please do input the email you will be using on the night. Subtitles are available.
TO AVOID DISAPPOINTMENT, WHETHER PAYING BY PAYPAL OR CREDIT CARD, PLEASE ENSURE YOU SCROLL DOWN TO FILL IN THE BOOKING FORM AND COMPLETE YOUR BOOKING BY PRESSING THE ORANGE 'PLACE BOOKING' BUTTON.
Booking
Suggested donation
£3/£5/£10
Future Webinars taking place with Suffolk Wildlife Trust