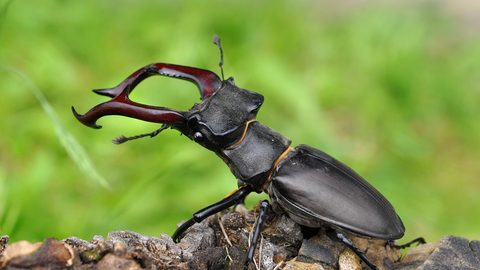 Wildlife Live Webinar - European Stag Beetle
Location:
online event,
Via ZOOM
Colin Hawes will reveal the wonders of the European Stag Beetle based on his 30 year study of its ecology
About the event
The 'European Stag Beetle Lucanus Cervus - a 30-year study of its ecology' webinar presentation will explore the incredible world of this now greatly threatened species. Suffolk remains a stronghold for the European Stag Beetle and Colin will explore their ecology and provide us with tips for what we can all do to support them in the county. 
Colin Hawes is the Suffolk county recorder and foremost expert on the European Stag Beetle, who has been studying these incredible creatures for 30 years. He was Editor of White Admiral, Suffolk Naturalists' Society's newsletter from Spring 1994 to Spring 2002 and has travelled extensively in the UK and Europe in support of the European Stag Beetle.
This Wildlife Live Webinar is part of a series of online events on a range of wildlife topics. It is scheduled to last approximately one hour plus a questions & answers session. Suffolk Wildlife Trust uses the Zoom platform for its webinars and, when you book, you will receive simple instructions on how to join the event from the comfort of your own home. When booking, please do input the same email you will be using on the night. Subtitles are available.
TO AVOID DISAPPOINTMENT, WHETHER PAYING BY PAYPAL OR CREDIT CARD, PLEASE ENSURE YOU SCROLL DOWN TO FILL IN THE BOOKING FORM AND COMPLETE YOUR BOOKING BY PRESSING THE ORANGE 'PLACE BOOKING' BUTTON.
Booking
Suggested donation
£3/£5/£10