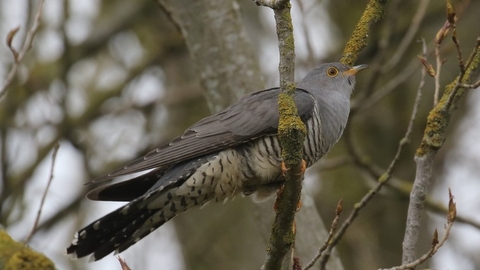 Wildlife Live Webinar - The cuckoo
The iconic sound of the cuckoo has long been the herald of Spring. Find out more about these incredible birds with Paul Stancliffe
About the event
Paul Stancliffe, media manager for the BTO (British Trust for Ornithology) will explore the life of the illusive cuckoo, its migratory patterns and its lifecycle. He has been involved with a fascinating BTO Cuckoo tracking project since it began in 2011 and has tracked, among others, 'Suffolk Wildlife Trust's' Carlton II cuckoo from its Summer home at Carlton Marshes to its Winter base - this year in the Gabon. His fascinating presentation will bring us up-to-date with the latest data available about the cuckoo's travels across the globe.
Paul is a lifelong birder who is a Council member of the Ornithological Society of the Middle East and the Bird Observatories Council. He has authored two bird identification guides published by BTO and Harper Collins. He regularly writes for BTO's membership magazine, BTO News, and produces BTO's seasonal Migration Blog.
This Wildlife Live Webinar is part of a series of online events on a range of wildlife topics. It is scheduled to last approximately one hour plus a questions & answers session. Suffolk Wildlife Trust uses the Zoom platform for its webinars and, when you book, you will receive simple instructions on how to join the event from the comfort of your own home. When booking, please input the same email you will be using on the night. Subtitles are available.
TO AVOID DISAPPOINTMENT, WHETHER PAYING BY PAYPAL OR CREDIT CARD, PLEASE ENSURE YOU SCROLL DOWN TO FILL IN THE BOOKING FORM AND COMPLETE YOUR BOOKING BY PRESSING THE ORANGE 'PLACE BOOKING' BUTTON.
Booking
Suggested donation
£3/£5/£10