Water and Wildlife
Please help us raise £70,000 to make our rivers a lifeline for nature
Nature urgently needs our help to recover. It's time to turn things around.
Rivers are nature's connectors - wild blue lines across the landscape.
As we struggle through the worst global pandemic in memory, the need for nature and wild places has been sharply felt.
The Wildlife Trusts are calling for 30% of land and sea in the UK to be connected and protected for nature's recovery by 2030 - and for Suffolk Wildlife Trust, our river valleys are a natural place to focus.
Our rivers are the arteries that bring life into our landscape. They link our towns and countryside and greet the North Sea on our coast. But they could be so much richer in wildlife.
Many suffer relentlessly from low flow, nutrient and sediment run-off from farmland and historic modifications that affect the way they flow through the landscape.
Rivers with cleaner water and more varied features support more wildlife - fast flowing bubbling riffles, calm pools, gravel beds, tree roots and natural riverbanks where animals can shelter, breed and feed and plants can flourish.
Thankfully, rivers can recover their wildness and our experience on the Little ouse, Deben and Blyth shows this. Our goal is now to do more.
With your help, we can build a team of Conservation Advisers to bring nature back to four major river catchments - by restoring the river channel and creating networks of habitat across the whole valley.
Your donation will help our conservation advisors to target four major river catchments: The Lark, Little Ouse and Waveney; Suffolk Coast and Broads; Orwell and Gipping; Stour Valley and tributaries.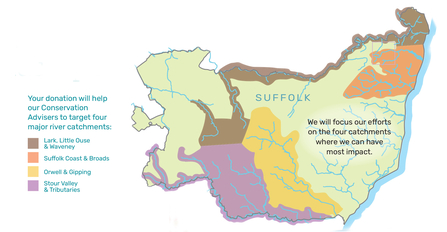 How we will help our rivers
Riverside tree planting to create cooler, shade areas for fish to spawn, improve water quality, reduce bank erosion and damaging run-off from farmland.
Working with farmers to improve water quality and habitat for wildlife across the whole farm. Reducing agricultural run-off is vital, so a wider range of aquatic plants can return.
Targeted action for water vole - amid UK declines of 95%, water voles are back on all Suffolk river catchments, thanks to habitat improvements and mink control. But it is a precarious return and we now urgently need to increase their number and spread.
Low-tech channel improvements to create areas of fast and slow flow, increase oxygen levels, trap sediment, reconnect to the floodplain and provide habitat for young fish or aquatic invertebrates.
Training volunteer river wardens to care for and monitor their local patch.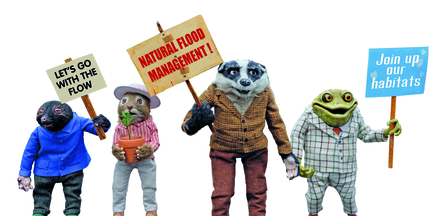 Water & Wildlife
Please help us raise £70,000 to make our rivers a lifeline for nature