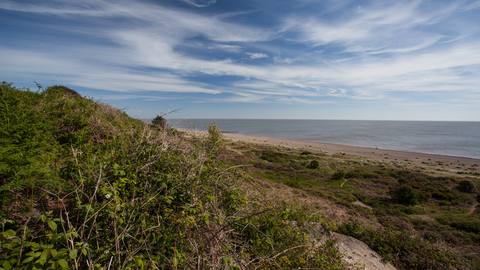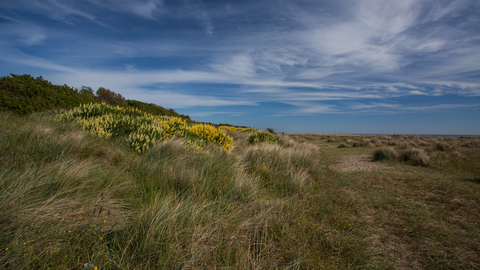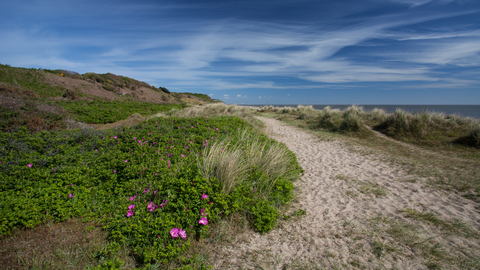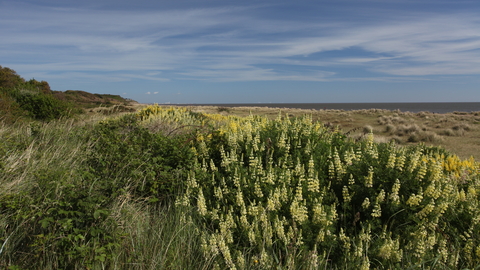 Gunton Warren Nature Reserve
Gunton Warren is one of the Lowestoft 'gems', another fragment of wonderful wildlife habitat right on the doorstep of the town. It is a fascinating and diverse place renowned amongst the local birding community as somewhere to find rare migrants such as icterine and yellow-browed warblers drawn to the shelter provided by scrubby patches of woodland.
Know before you go
Entry fee
Free.
Walking trails
Access
Not suitable for wheelchairs.
No drone flying without express permission.
(Permission will only be granted in exceptional circumstances)
If you'd like to visit this reserve as a group, please contact us in advance.
Dogs
Dogs permitted
Please keep dogs on leads in spring/summer to prevent disturbance to adders.
When to visit
Opening times
Open all year round
Best time to visit
March to September
About the reserve
As the only remaining section of the coast that retains a full suite of coastal habitats from mobile shingle, to sand dunes and vegetated cliff slope, to lowland heath on the cliff top, Gunton Warren is unique now in Suffolk. The fact that it has survived along one of the most heavily developed and modified parts of the coast at Lowestoft is extraordinary. Suffolk Wildlife Trust is working with local volunteers to restore heath on the reserve and remove bracken and vegetation which was encroaching on the open habitats needed for important populations of reptiles.
Gunton Warren is a great place to see common lizard and adder, perhaps basking on the WW2 pillboxes or in sheltered sun traps amongst the heather. The gorse on site supports a wealth of species from breeding populations of linnet and greenfinch to the tiny, jewel-bright green hairstreak butterfly which is best seen in early June. The vegetated shingle found at Gunton Warren is an internationally rare habitat and Suffolk Wildlife Trust volunteers have fenced off some areas to protect them from trampling. Plant species have adapted to live in this harsh environment battered by wind and sea spray with very little fresh water. Yellow horned-poppy and sea kale have metres long tap-roots to find fresh water and sea pea grows low to the ground to reduce damage from the wind.