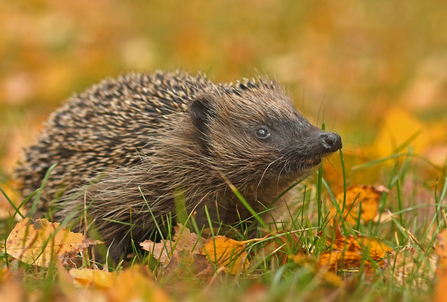 Recording your wildlife sightings is an important way to build up a picture of different species
To do this Suffolk Wildlife Trust has teamed up with iRecord - an online species recording system created by the National Biodiversity Network. Using iRecord means your records can be collated, checked by experts and used to support research and decision-making.
Want to record something, but not sure what it is?
We will always try and identify wildlife on our Facebook page and like to see photos of your discoveries. Details for the County species recorders are below and it may be worth a visit to iSpot, a website dedicated to sharing and identifying nature.
County species recorders
Birds

West Suffolk
Colin Jakes
7 Maltward Drive,
Bury St Edmunds,
IP33 3XN

Birds

South east Suffolk
Scott Mayson
Bird-se@sns.org.uk
8 St Edmunds Close, Springfields,
Woodbridge, IP12 4UY

Birds

North east Suffolk
Andrew Green
Bird-ne@sns.org.uk
17 Cherrywood, Harleston,
Norfolk, IP20 9LP

Bugs

Nigel Cuming
bugs@sns.org.uk
33 Holly Road, Stanway, Colchester, Essex,
CO3 5QL

Beetles

David Nash
coleopteran@sns.org.uk
3 Church Lane, Brantham, Suffolk
CO11 1PU

Amphibians and reptiles

John Baker
reptiles@sns.org.uk
63A The Thoroughfare,
Halesworth, Suffolk IP19 8AR

Butterflies

Bill Stone
butterfly@sns.org.uk

Dragonflies

Adrian Parr
dragonfly@sns.org.uk

 

Grasshoppers and crickets

Stuart Ling
4 Oxford Road, Ipswich
IP4 1NL
stuartjling@yahoo.co.uk

Moths

Tony Prichard
moth@sns.org.uk
or
moths@sns.org.uk
3 Powling Road, Ipswich
IP3 9JR
 

Spiders and other arachnids

Paul Lee
spider@sns.org.uk
33 Lawford Place, Lawford,
Manningtree
CO11 2PT

Stag Beetles

Colin Hawes
Suffolk Naturalists Society
c.hawes@hotmail.co.uk
 

Wasps, bees and ants

Adrian Knowles
hymenoptera@sns.org.uk
Jessups Cottage, London Road, Capel St Mary, IP9 2JR

Mammals

Simone Bullion
mammal@sns.org.uk
S.W.T., Brooke House, Ashbocking, Ipswich, IP6 9JY

Plants

Martin Sanford
botany@sns.org.uk
Ipswich Museum, High Street,
Ipswich IP1 3QH