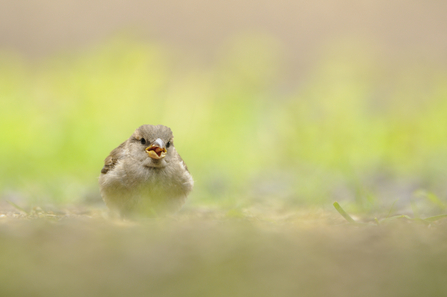 At Suffolk Wildlife Trust we are always happy to answer any questions you may have about creating a Living Garden or any unexpected situations you face, either over the phone, by email or via our Facebook and Twitter accounts.
But we also know that nature pays little attention to working hours and that sometimes you will need a helping hand straight away. Below are some of the most common questions that the Trust face, with links to more information and contact details of relevant rescue organisations.
"Help! I've found adder eggs in my compost"
Don't panic, adders do not lay eggs and are very unlikely to visit your garden. What you have found are almost certainly grass snake eggs.  For descriptions of reptiles and the benefits they can bring to your garden see here. 
To record your sighting, click here.
"I've found a bird that's fallen out of its nest"
Apart from barn owls, our advice is always to leave a bird where it is if it appears uninjured. It is very likely that the parent bird will still feed the chick on the ground. However for very young birds that have recently fallen out of the nest, quickly pop the chick back in and watch from a safe distance. Parent birds will not be affected or reject their young by the smell of humans.
For further advice call:
British Trust for Ornithology (BTO)
01842 750050
info@bto.org
www.bto.org
If you find a barn owl chick out of its nest please call:
Suffolk Owl Sanctuary
Maz Robinson 08456 807897 
info@owl-help.org.uk
"I've seen a bird with a ring on it, who do I call?"
British Trust for Ornithology is responsible for the bird ringing programme for Suffolk and will be happy to take your sighting.
British Trust for Ornithology (BTO)
01842 750050
info@bto.org
www.bto.org
"I've got a bat trapped in my house, will you come?"
The Bat Conservation Trust offers bat advice and can put you in contact with local advisors who can arrange visits. It is also worth looking at the general rescue contacts below.
National Bat Helpline: 0345 1300 228
"I've got a wasp nest, what shall I do?"
Wasp nests are only temporary, so try not to worry. As well as being important pollinators, wasps are also a key part of a wildlife garden's natural 'pest' control feeding on caterpillars. It could be that a wasp nest, if left undisturbed, helps your gardening.
If you're still concerned speak to one of our advisors to talk through the options by calling one of Suffolk Wildlife Trust's advisors on: 01473 890089
"My pond is half empty, shall I top it up?"
During the summer months it is natural for the pond level to decrease. This is not something that necessarily needs correcting as many animals and plants need areas of exposed mud and silt to set seed or lay eggs. If you feel the water is very low and that the pond needs to be topped up, try and use rainwater from a butt and refill gradually to prevent a massive change in the pond's temperature. Tap water is not recommended as its characteristics can unbalance the chemistry of the pond and cause algal blooms. For more information on ponds see here.
"I've found a hedgehog…"
We're always interested to hear if you have found a hedgehog - but it is likely that you will also need to talk to one of these groups below – especially if the hedgehog needs rescuing.
Hedgehog rescue advice and local contacts: 
Suffolk Prickles | Paula Baker 07469 177090 | suffolkprickleshedgehogrescue@gmail.com - visit their facebook page
Hedgehogs need your help
It has been well documented in recent years that hedgehogs face an uncertain future. It is thought many factors are to blame for their dramatic decline, including loss and fragmentation of habitat. We can all play our part to help turn around their fortunes.
Suffolk Wildlife Trust will be collecting hedgehog records from March 2014, once we know what the situation in the county is we can target our conservation efforts. Please look out for more details about the survey on our website soon, or enter your email address below and we will send notification when the survey is ready.
"I think I saw a polecat"
If you have seen a polecat, a polecat-ferret hybrid or a feral ferret please get in touch with the Vincent Wildlife Trust who are carrying out a survey of the distribution of these animals. If you, can take a note of the grid reference where your siting took place and take photographs. If you can't, get a photo take a note of the coat colour eg polecat-like, sandy, silver, albino. If you have a carcass do not dispose of it as it's possible it could be collected for genetic analysis.
The Vincent Wildlife Trust
01531 636441
www.vwt.org.uk/contact-us/
Useful Contacts
Amphibians and reptiles
 
Toad patrols
Duncan Sweeting 07887744848
Or use SARG online enquiry form here.
Birds
Bees (for swarm issues)
Badgers
Bats
National Bat Helpline: 0345 1300 228
Hedgehogs
Hedgehog rescue advice and local contacts:
Suffolk Prickles | Paula Baker 07522576140 | suffolkprickleshedgehogrescue@gmail.com - visit their facebook page
Colchester | Hedgehog Haven | Liz - 07847 138372 
Otters
Environment Agency
Otter road casualties to be reported – where possible they will collect carcasses
Ipswich -
Please e-mail FBG.ENS@environment-agency.gov.uk or call 01473 706740 with the following details and someone will be in contact:
Location of the otter, precise enough to enable someone to locate it (a grid reference is best)
Date the otter was found
Contact details of the finder
Any unusual circumstances or signs of pollution? High river flows?
Polecats
The Vincent Wildlife Trust
01531 636441
enquiries@vwt.org.uk
www.vwt.org.uk
Police
Suffolk Constabulary HQ, Martlesham
01473 613500 or dial 101
Report wildlife crime to the local Wildlife Liaison Officer
General Rescue
PACT Norfolk
01362 820775
RSPCA 03001234999 – 24 hours
RSPCA Martlesham Heath 01473 623280 (branch for emergency wildlife care)
Martlesham.rspca@btconnect.com
www.rspca-suffolkeastandipswich.org.uk
Wildlives, Thorrington (Colchester)
01206 251174/07802767016
Strandings in England & Wales
The Natural History Museum
02079 425155 (whales, dolphins & porpoises)
02074 496672 (seal carcasses)
If the animal is still alive phone the RSPCA or police. If dead, please try to secure the carcass (use gloves) to avoid removal of the tide. Assess condition of carcass, note site with reference to local features or OS grid. Take photos if possible.