Weekly wild news from our reserves – 12 March
This week our wardens spotted a raft of common scoter, blackthorn blossom, barren strawberry and long tailed tits.
A raft of common scoter
A squat, dark seaduck, the common scoter gathers in flocks of several hundred in winter, mostly feeding far out to sea. Common scoter will dive as deep as 30 metres to hunt for their shellfish prey. While they are under the water, their wings are partially open, helping them to stay balanced. Common scoters are spotted as a line of dark ducks flying low over the water, or as large rafts of black ducks bobbing on the sea, as seen here off the coast of Dunwich by Jamie Smith, North Suffolk Warden.
The male common scoter is our only all-black duck, with just a small patch of yellow on the bill. The female is dark brown, with a paler cheek.
Sleigh ride
Christmas is now in the dim and distant past and the threat of snow much abated. Yet, Suffolk Wildlife Trust staff in the Valley Fens still insist on keeping their sled out – the fire sled that is! Practical conservation tasks like essential scrub management to prevent encroachment on Market Weston fen has now finished as spring starts to poke its green fingers into the warming air and birds begin nesting. To ensure soil nutrients are kept low to benefit less vigorous plants and to protect the SSSI, some of the cleared vegetation unsuitable for chipping or firewood is burned on an open fire on a raised platform afforded by the fire sled. Once the fire dies down, the sled can be towed elsewhere, so that the high nutrient ash can be deposited away from sensitive habitats. We always keep burning to a minimum and leave deadwood where we can. 'It's a brilliant and effective piece of kit used by teams across the county' says Debs Crawford, Valley Fens Reserves Assistant.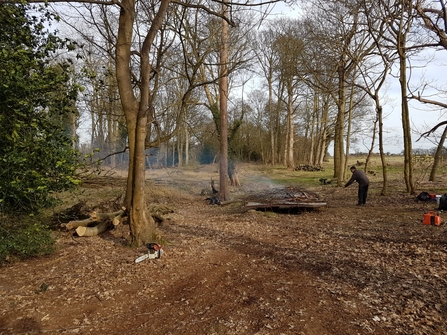 Long-tailed tits calling
Charlie McMurray, Trimley Marshes Warden, recorded this distinctive si-si-si-si-si call of long-tailed tits on the reserve. Sociable and noisy, often long-tailed tits are usually spotted roaming about in flocks of 20 or more birds during the winter. They have been known to breed cooperatively, with additional adult birds helping the parent birds feed the chicks. At night, long-tailed tits cluster together to keep warm.
Living up to its name, the long-tailed tit can be easily recognised by its long tail. It is a small, pretty, pink, black and white bird that can be seen in woodlands, gardens and parks.
Scarlet elf cups
Ben Calvesbert, Meadows and Heaths Warden, snapped these vivid scarlet elf cup fungi at Bromeswell Green. Small but charming, this nature reserve is a hidden gem within walking distance of Woodbridge, noted for its wet meadows, saltmarsh and woodland.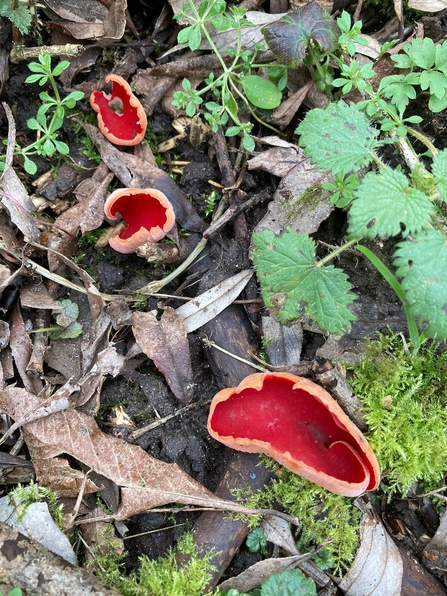 Barren strawberry
Joe Bell Tye photographed this delicate barren strawberry amongst rough grassland at Black Bourn Valley Nature Reserve this week. This pretty plant is also known as the mock strawberry and is so-called because it doesn't form fleshy fruits.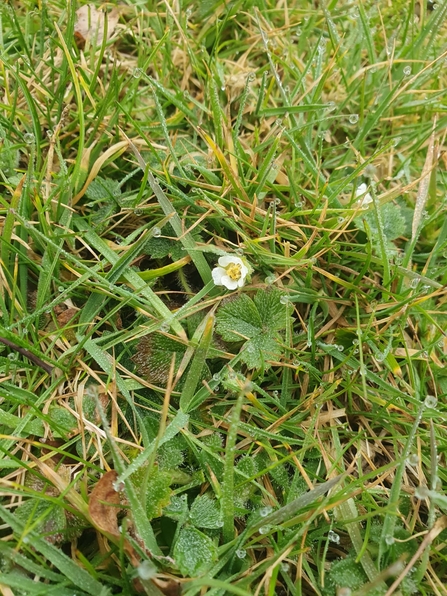 Blackthorn blossom
Jamie, our North East Suffolk Warden, spotted this blackthorn beginning to flower at Church Farm this week. Andy, our Lound Lakes Warden, has a handy saying to help remember the difference between hawthorn and blackthorn: blackthorn 'flowers and leaves' and hawthorn 'leaves and flowers'.