Weekly wild news from our reserves - 13 November
This week a bounty of orchard fruit, gorgeous views of winter sunshine, more fantastic fungi and essential reedbed management work.
The rarest of Parliaments
Bradfield Woods National Nature Reserve is home to a wide variety of fungi including Coprinopsis picacea or magpie inkcap. So often they are solitary finds and so Woodlands Warden Giles Cawston was particularly pleased to capture this photogenic group (a 'parliament' of magpies) that he could crow about! 'The wonderful patterning of white or silvery grey on a shiny dark-brown background makes this one of the most beautiful mushrooms to photograph for reproduction as a monochrome print. Like all inkcaps the fruitbodies are short lived, and so a patient observer could have an educational day watching a cap expand from an elongated egg to conical and then bell-like as the cottony universal veil remnant breaks into separate patches to reveal the glossy dark background'. 
Stunning scenes of winter sunshine
The winter sunlight has made for some beautiful views across our nature reserves this week. 
Dew spangled webs at Redgrave & Lopham Fen
Dew is the result of water changing from a vapour to a liquid and is particularly noticeable at this time of the year on spider webs. Debs Crawford's photograph illustrates this beautifully with gorse bejewelled in water droplets hanging from spider silk. 'Dew forms as temperatures drop and objects cool down. If the object becomes cool enough, the air around the object will also cool. Colder air is less able to hold water vapor than warm air and this forces water vapor in the air around cooling objects to condense resulting in water droplet formation - dew'.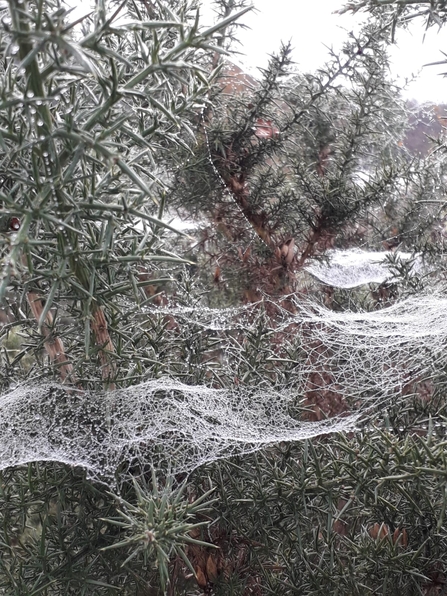 Bounty of orchard fruits at Martin's Meadow
Martin's Meadows have never been fertilised, sprayed or drained and as a result are among the few flower-rich hay meadows still left in Suffolk. The meadows also boast two orchards which include many local varieties of apple, along with pear, plum, quince, medlar and walnut. Meadows and Heaths Warden, Ben Calvesbert, visited the meadows this week to do scrub management and mowed around the edges to maintain the species rich grassland. Whilst there, Ben collected some of the autumn fruits to make bullace gin and quince vodka! 
Bird's eye view of habitat management work
Rotational reed cutting with the softrak happened this week at Carlton Marshes. Reed is cut and removed every 5-7 years to create a mosaic of different reedbed structure across the reserve. The first year's growth is sparse and this thinner reed is good for breeding water rail and bittern. As the reed matures more new and old reed stems create thicker habitat which is preferred by bearded tit and warblers.