Weekly wild news from our reserves – 15 October 2021
This week our cattle had a manicure and we spotted wonderful autumn wildlife including starling murmurations, fungi and migrating geese.
Starling murmuration
It's the season for magical murmurations. This film taken at Trimley Marshes shows the birds' synchronised circling, as they are seemingly unperturbed by the noisy port activities nearby!
British white cattle get a manicure
Our British white cattle at Church Farm had hoof trim and health check this week. Some seemed keener than others, forming an orderly queue whilst others tried to hide from the trimmer!
Brent geese passing through
There has been a steady flow of geese passing through Dingle Marshes, this video shows one of many flocks overhead. A common wintering bird, the Brent goose is the smallest of our geese - it is only just bigger than a mallard. Brent geese gather in large flocks of hundreds of birds and, unlike other geese, do not fly in tight 'skeins' (V-formations) but rather wavering lines of birds.
The fungi formally known as…
Agaricus augustus or 'the prince' is reputedly one of the very finest of edible fungi, usually appearing in small groups in open woodland or beneath parkland trees, particularly conifers. A widespread but occasional find, The prince is exceptional among woodland mushrooms in being relatively straightforward to recognise from a distance. If you are ever in any doubt its bitter-almond odour provides additional assurance when identifying. If you are planning a fungi foray, we recommend a policy of look and identify but do not touch or pick as many fungi are highly poisonous. (Because the presence of fruiting bodies are so important for a fully functional ecosystem, fungi foraging is not permitted on our nature reserves).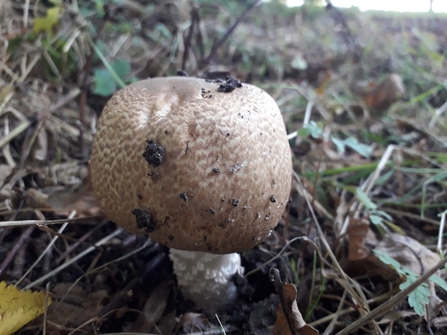 Hark!
This stunningly colourful moth, captured by Joe at Lackford Lakes, is named the herald. Like some other moths, it overwinters as an adult, and as a result, can be one of the last species to be seen in one year, and one of the first in the next. It is also sometimes found hibernating inside barns and outbuildings. The adults are attracted to both light and sugar, and the species is fairly common and well distributed over much of Britain. The herald's larvae feed on willow and poplar.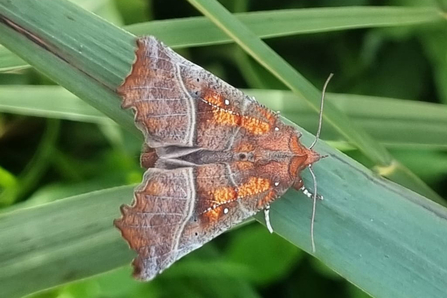 Fire and brimstone
Alder buckthorn is a small, thornless tree of wet woodland, riverbanks and heathlands. It is widespread, but scarce, across England and Wales. Clusters of pale green flowers appear in late spring, and bunches of red berries ripen to a purple-black colour in autumn, as in this photograph from Knettishall Heath. Unlike its relative, purging buckthorn, alder buckthorn is a thornless tree and has narrower leaves with wavy margins and rounded tips. Alder buckthorn has smooth, dark grey bark, but surprisingly bright yellow wood that was once used for making gunpowder. Alder buckthorn is the main foodplant of the brimstone butterfly. The Brimstones and Buckthorn Project has helped to increase populations of the scarce brimstone butterfly by supplying free buckthorn saplings for people to plant in their gardens and local community, especially in the east of the county where historical populations have been lower than elsewhere.
Topping Dingle Marshes
The North Suffolk team snapped a red deer stag and a Brent goose whilst topping the reserve. Topping typically involves cutting sections of rushes and grasses, complementing grazing management to further encourage structure and diversity within the marsh habitat and to encourage marshland plants to flourish.