Weekly wild news from our reserves – 8 October 2021
This week our Reserve Teams saw a marbled orb weaver spider, a burying beetle, green fungi and lots more magnificent moths.
Marmoreus!
Marbled orb-weavers are named after the extremely ornate marbled pattern on their abdomens, captured beautifully here by Alex at Bradfield Woods this week. The Latin name marmoreus literally means "marble-like". There are two varieties often found near water, heathland and woodland; one is marbled all over, while the other has a cream or yellow coloured patch on the dorsal side of the abdomen with a darker coloured, roughly triangular patch.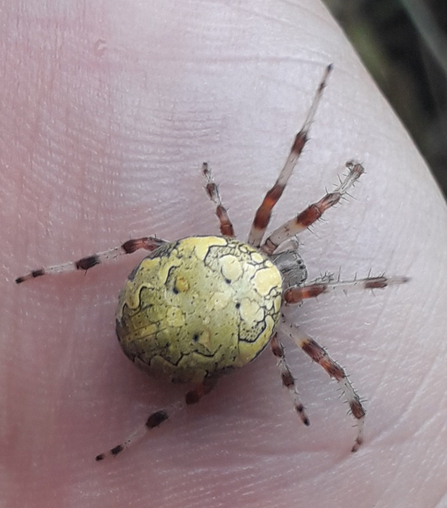 Green around the gills
Few fungi have green caps, and among the brittlegills that occur in Britain and Ireland there are just two common ones. The green brittlegill has a grass-green cap, sometimes with yellowish tints and is a gregarious mushroom, usually occurring in small, scattered groups. The fungi is often found on the edges of pine forests but nearly always under birches; two species David at Knettishall Heath knows all about! The green cracked brittlegill, is the second and somewhat larger of the green fungi, distinguished by its cap surface crazing as it matures.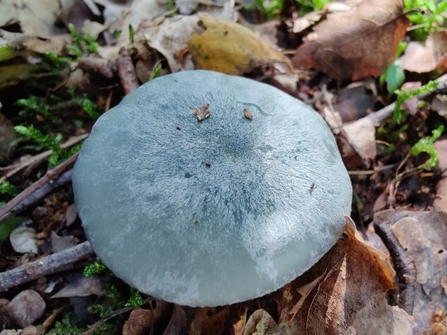 Burying beetle
This sexton beetle was spotted at Church Farm this week. Sexton beetles are the undertakers of the animal world, as they bury dead animals like mice and birds, and feed and breed on the corpses. There are several species of burying beetle in the UK which can be difficult to tell apart.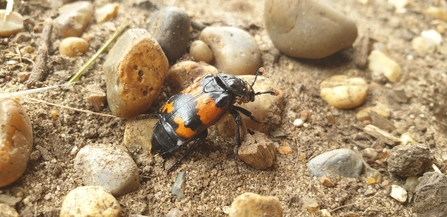 Lovin' the shades
An unmistakable and distinctive moth with pinkish-brown markings spotted by our ever-eagle-eyed Joe at Lackford Lakes, the wings of the angle shades moth are folded along the body at rest which gives the impression of a withered autumn leaf. Look out for the adults which are attracted to light and feed on the flowers of common reed and other grasses. They are frequently seen during the day, resting in the open, on walls, fences or vegetation. They overwinter as larvae so the caterpillars can be seen all year round, feeding in mild weather.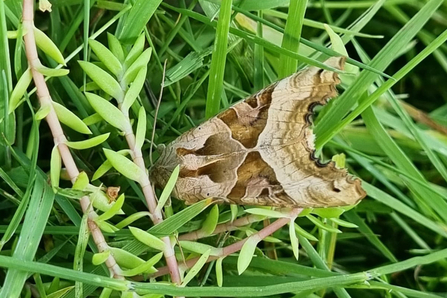 More magnificent moths
Warden Dan recorded more magnificent moths at Church Farm this week. Moths often have fascinating names, like the 'setaceous Hebrew character' which is so called as the wings are bristly and have a black mark which resembles the letter nun from the Hebrew alphabet. Also, the 'lunar underwing' is similarly named after a crescent moon shape on its wing. 
Orchid clearings