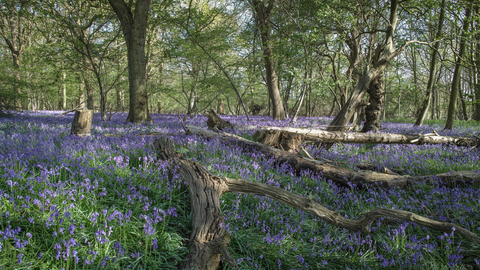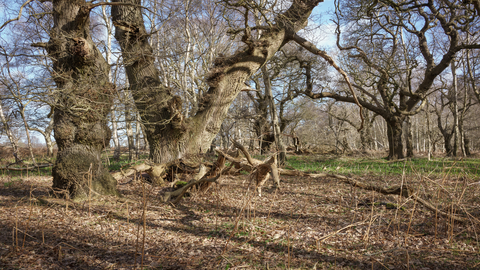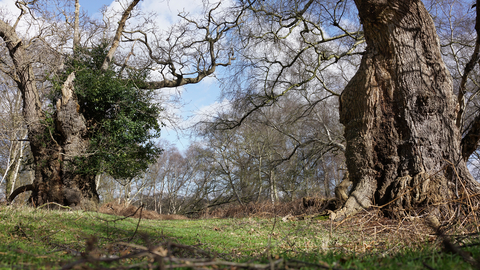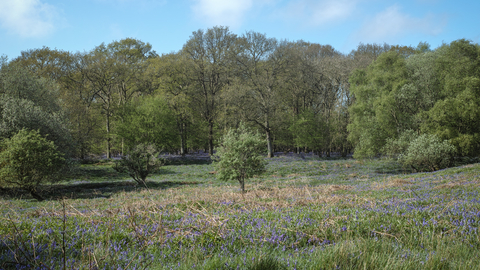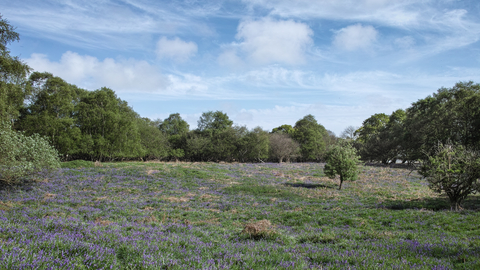 Captain's Wood Nature Reserve
Captain's Wood is a precious ancient woodland full of rare plants and a superb mix of natural habitats for a wide range of wildlife, including fallow deer, barn owl and bats.
When to visit
Opening times
Open at all times
Best time to visit
April to May, September to November
About the reserve
Fallow deer roam through one of the greatest expanses of bluebells in the county. Walk into Captain's Wood and you step back hundreds of years into a woodland habitat of ancient trees and wild flowers where deer roam freely, barn owls hunt the clearings and ten species of bat feed amongst the trees. 
In Spring, Captain's Wood exhibits one of the most astonishing displays of bluebells to be found anywhere in Suffolk. The woodland habitat varies from mostly open wood pasture with oak and birch to a large stand of almost pure hazel, clumps of mature Scots pine and lines of planted sweet chestnut. Veteran oak trees are found throughout much of the wood pasture, supporting several species of fungi and invertebrates which are dependent on the slowly rotting heartwood, notably the fungus 'oak polypore' that is only known from six other sites in Britain.
In addition to the ancient wood pasture are small fields and scrub. The land has been left fallow and has developed into a wonderful mosaic of rough grassland, scrub and woodland. The fallow deer play a crucial role in keeping this land open.
Captain's Wood has benefited from a gift in the will of Gloria Ford and was bought with support from The Heritage Lottery Fund.
Historical management
Captain's Wood was shown as 'Cutmore Wood' on ancient maps  - 'Cutmore' has evolved to 'Captain' over the years. 
Over the last 1,000 years, the wood has passed through the hands of various Bishops, noblemen and moneyed families including, in 1550, the Bishop of Norwich, in 1620, Sir Michael Stanhope (Groom to the chamber of Elizabeth 1) and in the late 19th century, Sir Richard Wallace. Until the 20th century, the wood was a small part of a much larger estate which has since been broken up.
Early maps show a landscape around Sudbourne radically different to that found today. A mosaic of wood pasture (open woodland typically grazed by deer or livestock) and heathland extended for several thousand acres and the boundary of Captain's Wood can clearly be seen much as it is today.
However, much of Sudbourne Great Wood to the north has been cleared for agriculture over the last 70 years, as have the extensive heaths to the east and south. Today, Captain's Wood sits in a modern farming landscape.
Environmental designation
County Wildlife Site