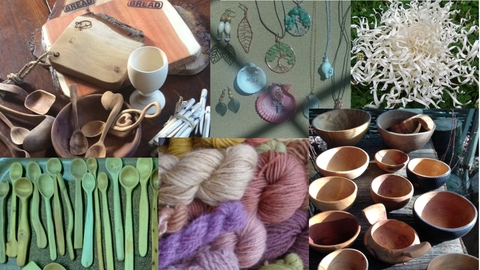 Green wood gallery at Bradfield Woods
Location:
Bradfield Woods, Felsham Road, Bradfield St George,
Bury St Edmunds ,
Suffolk,
IP30 0AQ
Display of work by the crafts people of Bradfield Woods, demonstrations, taster sessions and lovely items for sale. Refreshments available.
About the event
Sign up for taster sessions on the day, to include:
Knife skills 11am - 12noon both days
Gypsy clothes pegs
Demonstrations to include:
Gypsy flowers
watercolour painting
Here's some more information about some of our exhibitors:
Will Wall
An interest in archaeology and ancient technology first inspired Will Wall to take up Green Woodwork. Working at West Stow Anglo-Saxon Village in the 1990's, he spent his days researching, recreating and demonstrating ancient crafts using the simple tools and techniques of our ancestors. A series of different office-based jobs followed, but on leaving full-time employment in 2017, Will was able to devote more time to teaching and inspiring others to take up the simple but effective skills of green woodwork.
Principally a maker of bowls turned on the pole-lathe, Will also makes spoons, spatulas and other kitchen ware, along with trellises, hurdles and other green wood items for the garden.
Fay Jones
Fay is our friendly spoon carving and natural dyeing tutor. Fay's interest in all things craft started with historical re-enacting when she was a teenager and has grown exponentially since then. Fay spends half her time working for English Hertiage and the other half making, experimenting and exploring the East Anglian countryside.
Edd Terran
Graphic Designer, Artist , film Maker and Set Builder for Film. Always been interested in any form of traditional craft, with a particular passion for woodlands and carpentry. Worked as a volunteer for many years in Bradfield woods. It was here in the woods about 12 years ago he met Will Wall and the Bodgers as they where known then, He was invited to join them.
After retiring he has now been able to devote more time to green woodworking. Over the years he has built and made many things, Green Oak Pergola's, Bowls, Goblets, Chairs, Benches, Bread and Cheese boards, Love Spoons and Gypsy Pegs. Produced a green woodworking DVD with Dick Strawbridge, featuring Will Wall, Sue Holden and Eric Rogers in Bradfield Woods, and published a booklet to accompany the DVD.
Simon Lamb
Simon has been working with green wood for about fifteen years. Over that time he has made stools, bowls, spoons and many gypsy flowers. He is still enchanted by the quiet pleasure of using hand tools to craft freshly cut wood.
Janet Spencer
A career in woodland conservation and education in north London led on to 10 years with Essex Wildlife Trust managing woodland reserves. I discovered greenwood working and later, together with Hugh, built our first lathe.  Bringing up our 2 sons, we have nurtured their interest in tools and crafts, and love of being outdoors; a great balance to their predilection towards computers.
My main interest is in making spoons. I also make jewellery inspired by nature, using shells, wooden beads, natural gemstones etc, and dream catchers with a difference using recycled jewellery.
Hugh Spencer
A varied early history including agricultural college, farming in France and bus driving. This was followed by taking a degree as a mature student and a career in IT. Currently supervising a Men In Sheds charity project which encompasses a wide range of skills including antique chair repairs, for which I enjoy turning replacement parts. I tend to concentrate on greenwood spindle turning, making chair parts and tool handles although I do branch out (pun intended) into other woodworking areas.
David Downie
Stephanie Hartick
Stephanie is an artist inspired by the patterns she sees in the natural world and works across a range of media, currently experimenting with metal and wood.
Stephanie is the Creative Director of local social enterprise Art Branches cic which aims to improve people's health and wellbeing through creative projects liked to the environment. She specialises in creating bespoke workshops for adults recovering from mental health issues and works with NSFT, gatehouse and supported housing groups. She will be having a hands on watercolour workshop and on Sunday is joined by watercolour artist Rosie Copeland.
David Whatley
Booking
Price
Donations
Suitable for
Families, Adults
Know before you go
Mobility
People with limited mobility please contact organiser in advance
Wheelchair access
please contact organiser in advance
Parking information
Free car park - donations welcome
Bicycle parking
Yes
More courses at Bradfield Woods