Meet our Volunteer of the year, John Bumstead
At our Conservation Day and AGM on 26th October, the hard-won Volunteer of the Year award was presented by Suffolk Wildlife Trust's President, William Kendall and CEO, Julian Roughton.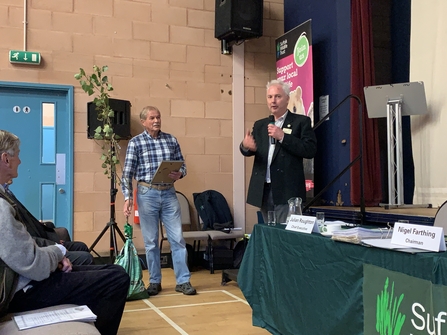 This year, the amazing work of John Bumstead was recognised and celebrated.  John has been volunteering at Knettishall Heath and Redgrave & Lopham Fen for a good number of years and has been instrumental in helping to restore these special landscapes for wildlife.
Knettishall Heath Ranger, Samantha Norris, explains more:
"John has volunteered with us on work parties since 2014 and quickly emerged as a natural team leader and became one of our first aiders and machinery operators. He helps out on work parties at Redgrave and Lopham Fen, and regularly runs the Knettishall Thursday work parties to assist me. He volunteers on extra days throughout the year as well, whether it be mowing, spraying or undertaking other habitat management tasks which take up extra weeks of staff time, and so is an invaluable help to the West Suffolk team. Over the last three years he has been growing bedding plants at home for us to sell at events such as the Knettishall Fair and Redgrave's plant sale and apple day. That became so successful that for the last two years he has been providing plants for Shaun Norris to sell on his Suffolk Wildlife Trust membership stand when roving around the county, and John will often join him on the stand to offer his plant expertise to the public, too. I know it has certainly generated extra interest in Shaun's stand helping to provide extra membership opportunities and help raise funds to help support Suffolk's wildlife."
If you're interested in volunteering with Suffolk Wildlife Trust, you can check out our latest opportunities here