New Trust campaign to bring The Lost Words to every primary school in Suffolk
Books containing exclusive-to-Suffolk writing and illustrations will become 'seeds' to bring wildness into children's everyday lives.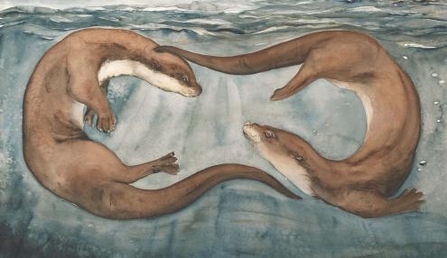 Suffolk Wildlife Trust has launched a campaign to get a copy of The Lost Words by Robert Macfarlane and Jackie Morris into every primary school in the county.
The move, which coincides with World Book Day and will see 250 schools receive a very special edition of the book, is part of the Trust's vision to inspire interest in the natural world and encourage children to make nature part of their everyday life.
The Lost Words, named as one of Britain's favourite pieces of nature writing, was created to celebrate and revive once-common "natural" words – from acorn and wren, to conker and dandelion – excised from the Oxford Junior Dictionary.
With acrostic spell-poems designed to be read aloud and hand-painted illustration, the book captures the irreplaceable magic of language and nature for all ages.
The Trust is asking its supporters and members of the public to donate £10 to buy a book for a Suffolk school. Each of these books will include an exclusive, previously unpublished spell by Robert Macfarlane and a beautiful new illustration by Jackie Morris.
Every primary school pupil will also receive a special book mark, illustrated with a barn owl feather painted by Jackie Morris.
Everyone who donates to the campaign will be automatically entered into a draw to win the original feather artwork.
Sara Holman, Suffolk Wildlife Trust's Learning Manager, said: "The Lost Words is a truly beautiful book, containing words and images to inspire young people to seek out and enjoy wild spaces close to them.
 
"By gifting books to Suffolk's primary schools, we want to bring wildness into the classroom and encourage even more young people to make nature – and the wonders that it holds – part of their everyday life." 
The campaign, as well as supplying schools with books, will include a programme of Suffolk Wildlife Trust activities (including the chance for children to write their own spell-poems) to cultivate their love of nature far beyond the book's pages.
Jackie Morris, who has also previously provided illustrations for the Trust's Christmas cards, described the books as seeds that could help "rewild the child."
 
She added: "To see our book finding its way so fast into schools, bringing that wild focus into the classroom, growing across the artificial limitations of the school curriculum to cover so many subjects is an utter delight. So fast, it echoes the torrenting song of the skylark.
"I would like to say a huge thank you to Suffolk Wildlife Trust for joining with us to help plant these seeds of books. And what a wonderful way to celebrate the work of the wildlife trust in its support of the hush-winged barn owl than to see the release of this barn owl spell into the wild, the first written by Rob since the completion of The Lost Words."
Robert Macfarlane, said: "The response to The Lost Words and its spells and creatures has been overwhelming and wondrous, from adaptations into theatre, dance and music, through to the way it has taken root in classrooms and children's lives all around the country.
"The power of the reaction speaks in part, I think, of the mix of anxiety and hope that colours our relationship with the natural world in this country at this moment. Jackie and I are thrilled at Suffolk Wildlife Trust's project to get a copy into every primary school in Suffolk, and in this way to bring the language and knowledge of nearby nature back into the stories and vocabularies of the county's children.
"I've written a special Barn Owl 'spell', for one of the county's most iconic birds, to mark both the books and the project."
Suffolk county councillor Gordon Jones, cabinet member for children's services, education and skills, said: "This is a fantastic initiative from the Suffolk Wildlife Trust which coincides with National Book Day. It will not only inspire children to read but will also encourage them to explore the natural world.
"Reading is an essential skill. It is enjoyable, interesting and exciting. Once children learn that, they are on the road to reading everything. The simplest way we can make sure children like reading is by finding books that they enjoy – like Lost Words by Robert Macfarlane and Jackie Morris - giving them access to those books and letting them read them."
Suffolk Wildlife Trust has emailed every primary school about the campaign and is asking them get in touch with the Trust to arrange the delivery of their book.