Seed from Suffolk Wildlife Trust's Bradfield Woods will help safeguard the nation's trees
Suffolk Wildlife Trust is continuing its work to safeguard the future of the UK's trees by collecting seed from our woodland nature reserves to be stored at Kew's Millennium Seed Bank.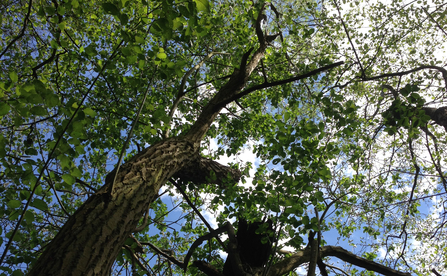 The UK National Tree Seed Project, of which the Trust is a partner, was set up with funding from players of the People's Postcode Lottery.
Tree seeds collected as part of the project are safely banked in the underground vaults of Kew's Millennium Seed Bank – forming the UK's first national collection of tree seeds.
These collections play a vital role in conservation work to protect UK trees and woodlands, including against pests and diseases such as ash dieback. The collections, and associated data, are available to researchers working on solutions to tackle the many threats facing our woodlands.
Launched in May 2013, the project is now in its second phase, and over recent weeks volunteers from the Trust have been collecting seeds from the Salicaceae family (which includes willow, poplar and aspen) from Bradfield
Woods.
The seeds from these trees are very small and do not remain viable for long (a few days) after being released from the trees, so pose a particular challenge for seed storage.
The Suffolk team is the first of all the partnership organisations to collect these seeds.
The seed project's species target list takes into account factors such as conservation status, prevalence in the landscape and vulnerability to pests and diseases. The target species include many which underpin the UK's wider plant and animal diversity, as well as supporting woodland industry, tourism and recreation, such as ash, juniper, Scots pine, alder, beech, silver birch and yew.
To date, and not including the latest collections at Bradfield Woods, 10 million seeds have been banked from across the country.