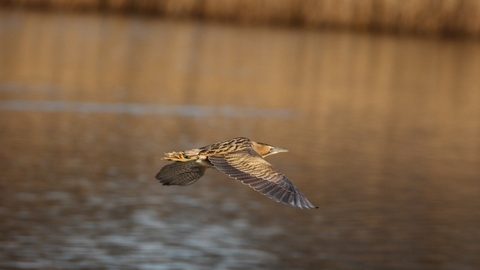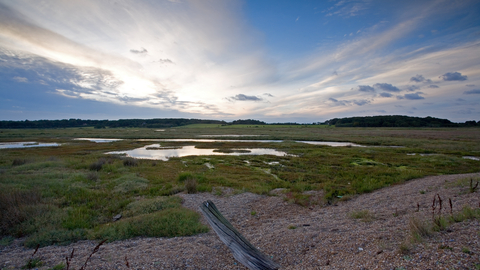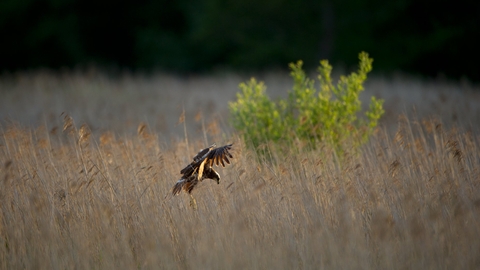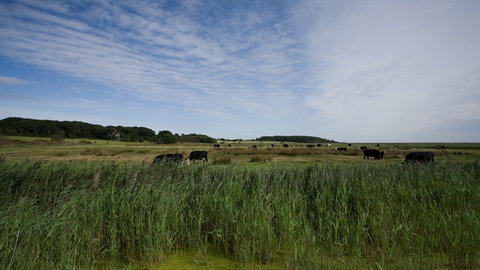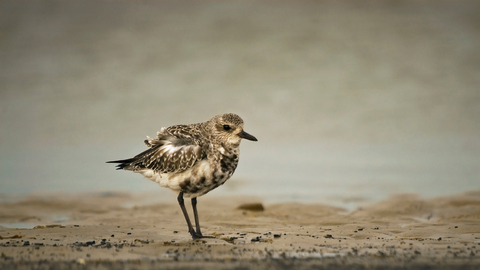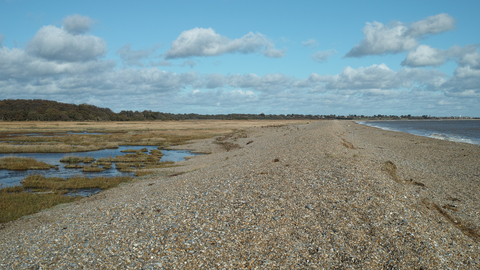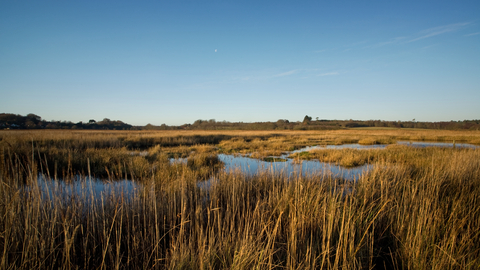 Dingle Marshes Nature Reserve
That spine-tingling experience of genuine wilderness is a pretty rare thing.
Know before you go
Entry fee
Free
Grazing animals
Cattle graze areas.
Walking trails
Difficult access for those with poor mobility. Long distance path with 30% on shingle.
Dingle marshes and Dunwich Forest circular walk: (4.5 miles):
Access
Not suitable for wheelchairs.
No drone flying without express permission.
(Permission will only be granted in exceptional circumstances)
If you'd like to visit this reserve as a group, please contact us in advance.
When to visit
Opening times
Open at all times
Best time to visit
April to September
About the reserve
But Dingle Marshes, a 229 acre mixture of coastal and freshwater habitats, moody heathland and atmospheric forest, can get you breathtakingly close. Parking at Dunwich beach, it is just a few steps to reach the mile-long shingle ridge that makes up the reserve's seaward side, a shifting path bordered by foaming waves and saline lagoons. It is these brackish pools that act as a magnet for wading birds and ducks including redshanks, grey plovers and wigeons. In winter, large flocks of heavily striped twite can be seen here searching for seeds at the water's edge.
Further inland the reserve's freshwater reedbeds – the biggest in Britain – support a wide range of bird life, including a significant proportion of the UK's bittern and marsh harrier populations. Both species show well throughout May, while reed-dwellers like the charismatic bearded tit can be seen hurtling over the path at most times of the year. In summer listen out for the clouds of singing warblers who are protected from the North Sea winds by a large shingle bank that also provides habitat for sea kale, yellow horned poppy and little terns.
This reserve, which is run through a unique partnership involving Suffolk Wildlife Trust, RSPB and Natural England, is a place of dynamism and change. Located a short distance from Dunwich, a place famous for being more of the sea than land, the shingle banks at Dingle have been breached multiple times. It is perhaps only a matter of time before this largely freshwater reserve makes way for the kind of habitat that will support more avocet and tiny starlet anemones.
The four mile circuit, which due to the hard going nature of the shingle takes a couple of hours to complete, also takes in Exmoor Pony grazed heathland before dipping inside a section of Dunwich Forest. Even beneath the mixed canopy it is occasionally possible to get good views over the marshes and a small hide overlooking the reedbed can be reached along tracks within the forest.  This bit of the reserve can be a bit busier but there is still a good chance of seeing birds such as crossbills, goldcrests and siskins, hear singing woodlarks in spring, or spot red deer picking their way through the trees in autumn. Bought with support from the National Lottery Heritage Fund.  
Environmental designation
National Nature Reserve (NNR)
Natura 2000
Site of Special Scientific Interest (SSSI)
Explore Dingle Marshes from the air