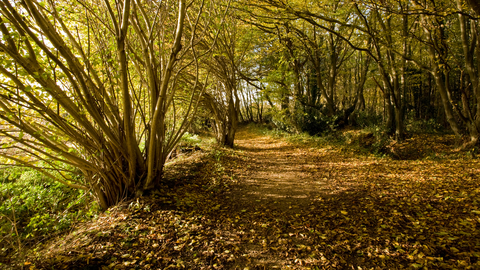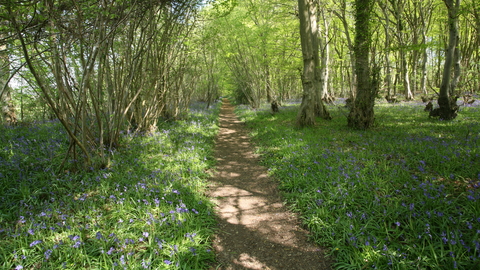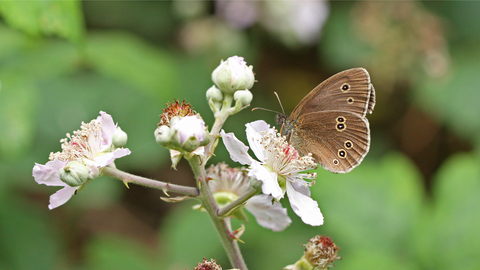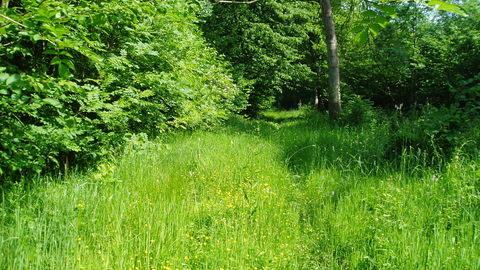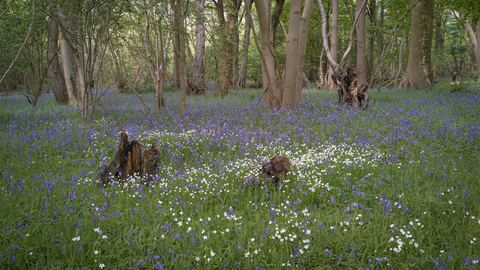 Reydon Wood Nature Reserve
A small but fascinating ancient coppiced woodland, famed for its bluebells in the spring.
Location
Know before you go
Entry fee
Free
Parking information
Car park at junction of Wood Farm Lane and Rissemere Lane.
Walking trails
Walk up Wood Lane (restricted byway) to access the reserve.
Ground firm but can be wet and muddy after rain.
Access
Access difficult for those with poor mobility particularly in winter or wet weather as paths can be muddy and uneven.
Not suitable for wheelchairs.
No drone flying without express permission.
(Permission will only be granted in exceptional circumstances)
If you'd like to visit this reserve as a group, please contact us in advance.
When to visit
Opening times
Open at all times
Best time to visit
April to July
About the reserve
There is a sense of being pulled into Reydon Wood; poured down a tunnel of trees and into a fragment of medieval wood whose roots are sunk deep into history. Not only is this nature reserve a testament to time, but it is also attests to the resilience of nature.
Standing in its ancient heart it is hard to imagine that this place of dappled light and flower-studded rides was once darkened and choked by a conifer plantation: a sterile pine needle mat in place of the rich humus mulch that now cushions every footfall. The circular trail that takes in about half of the wood can be walked in 30 minutes, but with so much to see and each coppice warranting inspection, be prepared to spend much longer.
Numerous dens, fashioned out from cut wood and fallen branches suggest children would be happy to while away half a day in a spot that has more than a hint of fairy tale magic about it. In spring and summer look out for butterflies such as ringlet, gatekeeper, orange tip, speckled wood and painted lady flitting in sun-drenched glades that are also rich in wildflowers with common spotted orchid, ragged-robin and fleabane in abundance.
This wood, like all old woods, is a cultural place and local people have made a significant contribution to the rejuvenation of the habitat. In turn for a share of the firewood they have helped re-instate a 20-year cycle of coppicing that has resulted in a spectacular eruption of spring flowers to rival any Suffolk wood, including swathes of bluebells, yellow archangel and greater stitchwort. Look out for tawny owl, sparrowhawk, long-tailed tit, woodcock and treecreeper, while in spring the recently coppiced areas are alive with the liquid song of blackcap and nightingale.
Species
Habitat
Environmental designation
County Wildlife Site