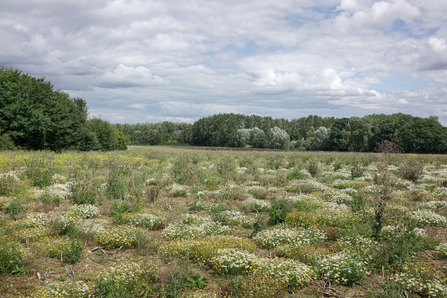 The flowery riverside meadows at what was previously known as the Grove Farm nature reserve are already one of the largest and richest in central Suffolk. 
And now, following a public campaign and legacies from Gerald Ford and Mary Newman, 70 acres of river valley have been added to the site to create a magnificent landscape for wildlife that sweeps down the valley sides with the Black Bourn at its heart.
The linking of Grove Farm to the river to form the Black Bourn Valley nature reserve will, in time, enable the rejuvenation of the valley and the creation of an even wilder, wetter river corridor. 
Grove Farm was bequeathed to Suffolk Wildlife Trust in 1995 by Laura Cooper. Laura arrived as a land girl during the Second World War and after a lifetime's enjoyment of the farm's wildlife, wanted to secure its future. 
The farm borders the Black Bourn, and a walk amongst the flower-rich meadows is like stumbling across a piece of forgotten Suffolk. Over the past 15 years we have replanted and gapped up hedges and taken field margins and corners out of arable production to create more opportunity and space for wildlife.  These are ideal habitat for field voles and harvest mice which in turn are hunted by the resident barn owls.
The many ponds scattered across the farm have been restored and more have been dug to encourage the local population of great crested newts to increase and spread.
Thanks to the combination of thick hedges and wide field margins, there are good numbers of farmland birds like yellowhammer and song thrush and we are creating new areas of scrub which in time, we hope will  encourage bullfinch and whitethroat to nest.
In 2001 we planted a new woodland, Cooper's Copse, to celebrate Laura Cooper's generosity.  Wildlife thrived under Laura's custodianship and as a working farm, Black Bourn valley nature reserve continues to provide an example of how farming and wildlife can coexist.
If you would like more information about how we use legacy gifts to help wildlife, please contact Christine Luxton on 01473 890089.