A Wilder Market Weston Fen
Please help us make Market Weston Fen bigger, better and more joined-up for wildlife. 
Market Weston Fen is a very special place for wildlife. Being one of the finest fragments of valley fen in East Anglia, it is home to over 250 different flowering plants, 20 species of butterfly and 200 types of moth. You can also see numerous dragonfly on the wing through summer with swallows darting and wheeling around the cattle into autumn. Look out for fox on frosty winter mornings.
It is an internationally important wildlife site designated  both a UK Site of Special Scientific Interest (SSSI) and a European Special Area of Conservation (SAC). 
Thanks to your support, the reserve has been extended over the years and currently covers 100 acres. We now have a unique chance to buy a further 78 acres to create a 178-acre nature reserve. 
Nature needs more space to thrive, and together with other Wildlife Trusts across the UK, we're aiming to put 30% of land and sea in recovery for nature by 2030. The expansion of Market Weston Fen will mean the wetland habitat is more resilient to climate change and will allow us to naturalise former arable fields into transitional habitat. Where two habitats meet and integrate in an 'ecotone' like this, magical things can happen and a wider variety of species will flourish. 
A legacy gift kindly left to the Trust by Rosemary Wilson has put the land purchase within our reach – but we still need your help to make it happen. 
Buying land is a chance to safeguard it for wildlife – forever. Please help us raise a further £250,000. Thank you!
About Market Weston Fen 
Market Weston Fen nature reserve is one of the most intact valley fens in East Anglia.  
As spring takes hold, the succession of colour across the fen reflects the varied plant communities that have developed through centuries of grazing and conservation mowing. Today, the fen is grazed by cattle to help maintain the rich fen flora. The saw sedge beds are a unique feature of Suffolk's valley fens and are still cut for traditional uses such as thatching.
By high summer, dragonflies and damselflies are on the wing. They breed in the many ponds scattered across the fen. Some of the ponds, called pingos, were formed by large blocks of ice which slowly melted during the last ice age, leaving behind a water-filled depression. Beyond the peat fen there is a higher area of heath. Sandy lenses jut out into the fen, producing a different flora to the wetter areas, with species such as heath-spotted orchid, yellow-rattle and quaking grass.
Small wetlands are especially vulnerable to the impact of outside influences like changing water levels. Market Weston Fen escaped the drying-out effects of water abstraction and drainage which damaged many other fens in this region and remains one of the most wildlife-rich valley fens in East Anglia.
By working across the landscape to link up and secure the hydrology of fenland sites we can ensure they survive for future generations to enjoy. 
Some of the species highlights found at Market Weston Fen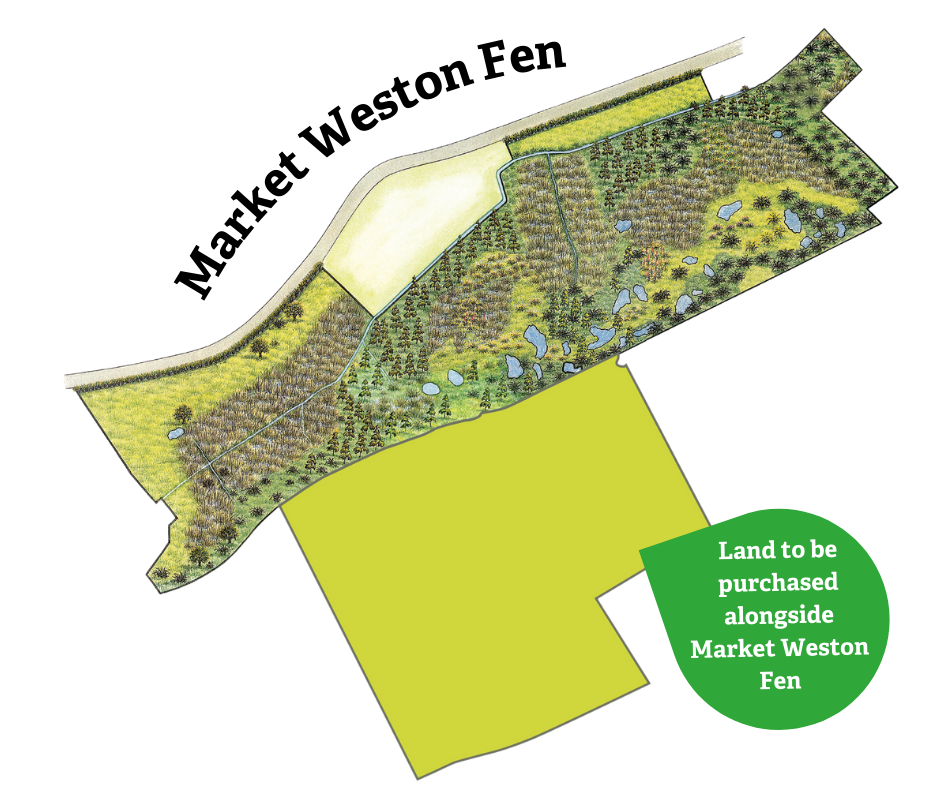 Land to be purchased alongside our Market Weston Fen nature reserve.