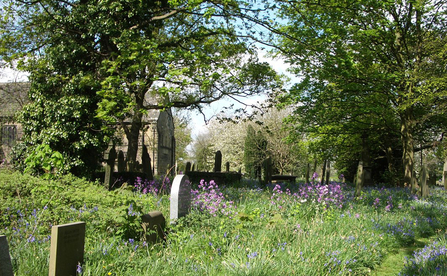 Churchyards, allotments and village greens all play an important role in helping link habitat for wildlife. Even the smallest of actions can have a big impact. In this area of the website you will find ideas for improving your local green spaces along with examples of how community action is helping to turn around the fortunes of species in decline.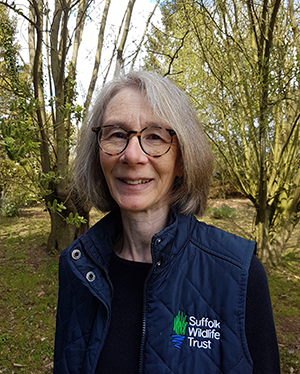 If you would like to arrange an advisory visit to your Community Green Space contact Cathy Smith or call us on 01473 890089.
Churchyards
Grassland, pathways and graves
Many of our churchyards have escaped the agricultural intensification and changes in land use that has caused the dramatic loss of semi-natural habitat seen elsewhere. For this reason churchyards can be very important for wildlife, providing a refuge for a wide range of wildflowers, birds, animals and invertebrates. With sensitive management this wildlife can be encouraged without detracting from the spiritual and contemplative role of the churchyard. 
Churchyards often contain a number of different semi-natural habitats that with careful management can provide a home for wildflowers and wildlife. 
Wallplants
Suffolk has few natural geological outcrops, so our ancient buildings and stonework provide a unique habitat for a range of wall plants. 
Ivy
Whether trailing, forming part of a hedgerow or growing up a tree trunk in a churchyard, the foliage, flowers and berries of ivy provide an excellent habitat for wildlife throughout the year. 
Ponds
Suffolk Wildlife Trust hopes to improve the health of the region's ponds to create a spectrum of aquatic zones in which a myriad of creatures can find the right kinds of spaces to flourish.
Allotments
Allotments may be the only significant wildlife habitat in urban areas and as such are an important refuge. See how you can bring your allotment to life with a few small changes.
Identifying the wildlife where you live
Shining examples of community action for wildlife
Suffolk Community Barn owl Project
Just ten years ago the numbers of breeding barn owl were dangerously low. Now, with intervention from Suffolk Community Barn Owl Project, numbers are at their highest recorded levels.