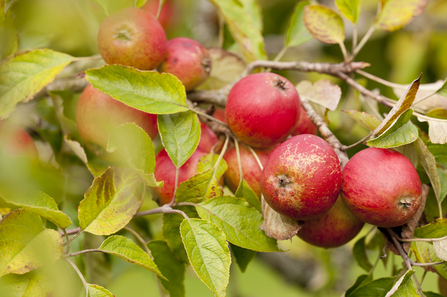 Across Suffolk hundreds of private landowners are managing a network of land for wildlife. The habitats are diverse and include farmland, ponds, rivers, meadows, woodlands, wetlands, smallholdings and orchards.  They cover many hundreds of acres of land and are helping to create a living landscape for Suffolk.
 
Owners of Private Nature Reserves can request a free visit from our Conservation Adviser. Email Suffolk Wildlife Trust or call us on 01473 890089 (Monday to Friday 8.30am - 5.30pm)
Private Nature Reserve – Case Study 1
Fiona, Sudbury – 1.5 acres of converted arable field and vegetable patch
Why did I decide to manage my land for the benefit of wildlife?
As an organic gardener I have always been fascinated by the interrelationship between flora and fauna. When a neighbour transformed an arable field into a wildlife haven with a mixed native hedge and mixture of wild grasses and flowers within, I too decided to turn most of my ¾ acre vegetable patch over to wildflowers and plant trees for coppicing.
Since then more neighbours have taken interest and asked about sourcing wildflowers and native tree species. Hopefully the changes will influence other people to grow for wildlife.
What have I learnt so far?
To discover that you can encourage insect species into your environment simply by sowing particular plants or by letting them grow, was a revelation. My attitude to nettles and thistles, changed and, combined with a desire to do less "tidying up", led to a greater interest in managing land for wildlife. This led eventually to a decision to purchase some land to plant a small woodland with a pond.
Managing the land is therapeutic, inspirational and a way of giving something back. The excitement of allowing nature to create and flourish, to discover what has "flown in" and what was waiting in the soil is pure joy.
Have there been any highlights?
The wildflower meadow is full of spiders, moths, butterflies and other insects as well as small mammals. A weasel was also spotted this summer.
One of the "wow" moments was the flowering of thousands of poppies, the seed having waited in the soil for possibly 50 years, very appropriate for 2014. Another was swimming in the pond amongst mating damsel flies and feeling a large dragonfly settling on my head.
How has the Trust's advice helped?
The Trust's advisory visit in October was invaluable and very timely, and I now have a clear picture how to progress the woodland, particularly the area to be coppiced.
Walking in Arguer Fen and Spouse's Vale nature reserve inspired the mix of holly, silver birch, wild cherry and hazel with scattered oaks and field maples. I hope that the little woodland I have planted will be just like that in one hundred years time. Meanwhile it is providing a home to a myriad of species; knowing that gives me enormous pleasure.
I continue to follow the Trust's campaigns and your magazine is full of information focused on positive initiatives regarding the future of our wildlife.
Private Nature Reserve – Case Study 2
Andrew and Jane, Leiston - 32 acres of converted arable field
Why did I decide to manage my land for the benefit of wildlife?
We trained as biologists because we were always interested in the natural world. When we realised many species were in decline, we felt it important act straight away rather than depending on others to do something about it. With that in mind we increased the size of our land-holding each time we moved house.
What has been your approach?
Our efforts have been aimed at increasing biodiversity on our piece of land, by creating a mosaic of different habitats on what was mainly arable land. Initially our focus was on plants, as the foundation for everything else, but subsequently we have not concentrated on any one group. Anything that has appeared, we have tried to provide or extend suitable habitat for it.
Have there been any highlights?
We have 209 species of plant (not including grasses) supporting 58 species of birds, 28 of butterflies, 5 of reptiles and amphibians, 18 of mammals and at least 73 of moths, using our land for breeding and/or feeding, plus rarities on passage like wryneck and ring ouzel, clouded yellow and silver-washed fritillary.
How has the Trust's advice helped?
We started 23 years ago when the Trust was smaller. Our background gave us the foundations to make significant inroads but the advisory visits focusing on specialist areas including bats, harvest mice and birds have been useful sources of information and good sounding boards. It is always helpful to know what other people are doing in similar circumstances and the private nature reserve network run by the Trust gives us this option.