A gathering of hedgehog researchers and practitioners from across Europe
Last month myself and Conservation Manager Simone Bullion headed to London to attend the eighth European Hedgehog Research Group workshop at Hyde Park.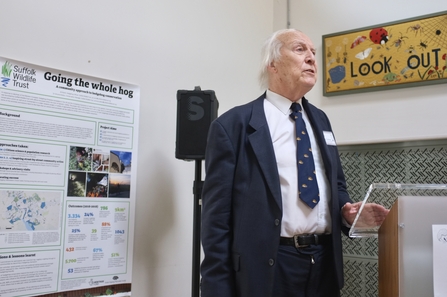 Researchers, conservation practitioners and hedgehog rescue workers flocked (or should I say scurried/shuffled) from across Europe to share their latest insights into the world of hedgehog research. The European Hedgehog Research Group was established by Beate Johansen in 1996 with the primary aim of sharing the latest scientific research amongst academics, but with an important outcome being shared knowledge between scientists and practitioners. I was excited to contribute our own findings and meet others involved in hedgehog science and conservation from across the continent (you can see our poster in the image above).
The 2 day conference began with words from Pat Morris - hedgehog expert and author of the Collins New Naturalist Library Hedgehog book - giving an overview of the history of hedgehog research. Research into the ecology and behaviour of hedgehogs has been patchy and relatively slow to get going, but with a growing number of research groups now bridging these gaps. This conference was an excellent opportunity to hear more about the awesome work being done across the continent!
A strong theme throughout the talks highlighted the power of people; a lot of research wouldn't be feasible without the help of volunteers and citizen scientists. The National Hedgehog Survey led by Ben Williams at University of Reading relied on volunteers to monitor footprint tunnels across rural UK (with findings showing impacts of badgers and wider countryside issues, paper here) and the Danish Hedgehog Project relied on volunteers collecting hedgehog carcasses from across Denmark to provide insights into diet, parasitology and genetics. Citizen science is generating big datasets to identify useful trends like the Hedgehog Housing Census quantifying factors influencing hedgehog house use (by Abi Gazzard, University of Reading) and Garden Wildlife Health, a collaborative project (between ZSL, Froglife, BTO, RSPB) relies on sightings and carcasses sent in from the public to look at prevalence of disease in wild animal populations in the UK.
Methods being used to monitor hedgehogs was another topic of interest. Hedgehogs, like many mammals, are notoriously difficult to detect, and their numbers even harder to quantify. Presentations highlighted methods ranging from the detection of hedgehog parasites in intermediary slug hosts to the use of trail cameras and the use of Random Encounter Modelling (REM). It was especially interesting to hear Jessica Schaus (Nottingham Trent University) speak about the comparison of REM vs standard mark-recapture techniques, as this was research we assisted with in Ipswich. REM is a statistical method that relies on randomly distributed trail cameras within a study area, alongside various variables including camera detection rates, survey effort and area covered by cameras. Jessica found similar hedgehog population density estimates between the two methods across both urban and rural landscapes but then went onto explain the financial implications of the methods.  REM was very cost heavy with start up costs of around ~£10,000 with around £3,660 being the cost of volunteer time. The costs were however reduced by 66% after the initial investment of equipment and the benefits of this method are large. Mark-recapture relies on night work and marking/tagging hedgehogs whereas the use of camera traps is completely non-invasive, generates large amounts of data on multiple species simultaneously and has the added benefits that comes with engaging communities in hedgehog conservation action. We look forward to sharing some Ipswich results as the findings are published!
One talk that I found particularly interesting was delivered by Professor Dawn Scott, of Brighton University.  At least 70,000 hedgehogs are admitted to wildlife rescue centres every year; they are the most commonly admitted mammal in the UK and Autumn/Winter is often a busy time as people collect small hedgehogs over worries of their survival through winter. Rescue centres are often very limited on resources, time and finances and many 'beds' are taken up by healthy hedgehogs over-wintering in captivity, leaving few spaces for hedgehogs that are injured or ill. Understanding whether healthy rehabilitated hedgehogs could be released throughout winter was an important question for RSPCA and one that Dawn, alongside colleagues at Nottingham Trent University were addressing; if feasible, many spaces could be freed up and resources allocated more efficiently. The study, conducted over 4 winters and led by Dr Richard Yarnell  used VHF radio transmitters to track rehabilitated hedgehogs (34 in total) to look at survival, body condition and nest-use when released in Winter, in comparison to wild hedgehogs (23 in total). They found that so long as rehabilitated hedgehogs were being released in favourable conditions (depending on the mean temperature before and post release, the use of 'soft' release and checking of the box daily), there was no difference in survival or condition between released and wild hedgehogs up to 150 days post release/monitoring. What's more, this and other research (eg. work by Lucy Bearman-Brown at Hartbury University) demonstrates how normal it is for hedgehogs to be active through winter. Being cooped up in a hutch for months at a time could in fact be having unintended negative consequences. You can read the published paper here.
To finish, possibly my favourite finding of the 2 days was that from Sophie Lund Rasmussen of University of Southern Denmark who used skeletochronology to age hedgehogs. The method involved counting the concentric growth rings in the jaw bones of the hedgehog carcasses volunteers had gathered from across the country. She found a hedgehog that was an amazing grand age of 16 years old! To put into context, the oldest that has been recorded in the UK (that I am aware of) was 8 years old, with the average being 3/4. Pretty cool!
If you're interested in reading more about the research presented at the conference, you can download the Abstract book here.