Suffolk has a coast line of 49 miles with an additional 83 miles of tidal edge on the estuaries meaning that for many children their nearest natural environment is the beach. Our coastal programmes extend from Felixstowe to Lowestoft, enabling children to experience the coast in a new enlightening way while increasing their knowledge of this ever changing landscape.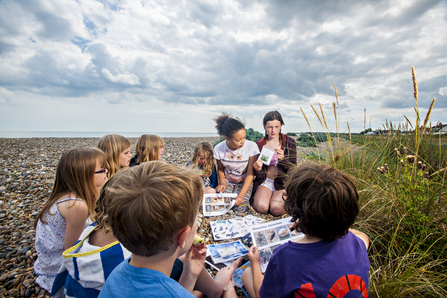 Coastal Explorers - KS1 & KS2
SWT offers one day or half day visits to stunning Suffolk coastal locations. During the visit pupils will explore the seashore and plantlife on the coast. Learn about tides and water as well as other geographical features. Consider the physical and human factors affecting this specialised habitat. 
Coastal explorers is cross curricular, click here to download our example lesson plan
Coastal Ecology- KS3
Investigate the beach substrate, looking closely at sediment size, infiltration and beach profiles. Identify and classify key plant and animal species and design hands - on experiments to measure the abiotic factors influencing them. Investigate the marine ecosystem and factors affecting marine species.
Download an example lesson plan
GCSE
Investigate your local beach as an important ecosystem. Develop the students' practical filed skills with hands-on work focusing on organisms in the environment and coastal management
Wild Beach
Wild Beach brings the forest schools philosophy to Suffolk's coastal habitats. A series of up to six 2 hour sessions where young people develop an understanding of beach and marine ecosystems and learn about land and sea life through explorative and creative activities.
For further information please send a message