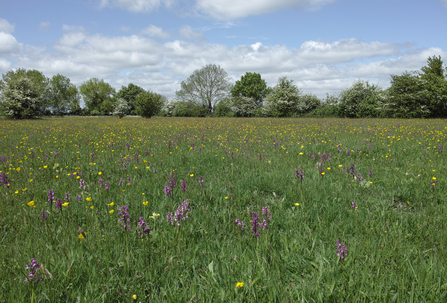 Suffolk's grasslands, large and small, are vital for wildlife, providing a haven for a wide range of wildflowers, birds, animals and invertebrates. But as agriculture has intensified, traditional management techniques of cutting and grazing, essential to prevent coarser vegetation and scrub dominating at the expense of fragile species, have declined. Coupled with the pressures of development it's estimated that 90% of our herb-rich meadows have vanished in the last half century. Suffolk Wildlife Trust are working hard with farmers and landowners to ensure these important habitats are not lost. The following resources offer guidance on everything from careful grazing to hay-cutting and grassland creation.
Grassland management
Grassland management for butterflies
More than 20 butterfly species regularly breed in Suffolk on suitable grassland and field edge habitat. 
Grassland management for invertebrates
By careful management and continuous management of grassland, it is possible to create a habitat that benefits a variety of invertebrates while also helping those that feed on them.
Grassland management for reptiles
By following simple management techniques and providing extra shelter, your grassland site can be a welcome refuge for reptiles. 
Grassland management for wildflowers
Without management fragile wildflowers can be squeezed out of grassland by more vigorous species. 
Scrub can be an important part of any grassland habitat, but needs management to keep it in check. 
Churchyards can be very important for wildlife, providing a refuge for a wide range of wildflowers, birds, animals and invertebrates. 
Common ivy is native to Britain and widely distributed across Suffolk. It is an adaptable woody climber, able to grow in most soil types and is resilient to changes in climatic conditions.
Suffolk has few natural geological outcrops, so our ancient buildings and stonework provide a unique habitat for a range of wall plants that would otherwise be unlikely to occur in the county.
Establishing grassland and increasing botanical diversity at existing sites
Grassland, particularly when surrounded by different habitats such as hedge, scrub, woodland and even bare ground, can support a rich community of wildlife.
Grassland 'weeds'
Whilst all plants are valuable to wildlife, some can become invasive in grassland. Species such as thistle, dock, nettle, ragwort and on wetter sites rush, can out-compete other plants or make management - such as hay cuts - impractical. But remember, it is not necessarily about elimination from within a herb-rich sward but about achieving a sensible and manageable balance using methods that minimise the impacts on wildlife.
Thistles provide a succession of micro-environments for birds and insects. But in some grassland situations, creeping thistle and spear thistle can become a problem. Find out which thistles are valuable to wildlife and which might need to be controlled.
Nettles and docks are important habitats for a huge range of invertebrates but can become a problem in large numbers. See how to effectively manage these plants to prevent them from taking over your grassland.
Scattered clumps of rushes provide valuable structural and plant variety in grassland but can reduce botanical interest of a site if not managed. Find out if you need to control rush and the best time to do it.
Because ragwort can be toxic to livestock but is also valuable for invertebrates, its control needs to take a balanced approach. Find out how best to manage ragwort at your grassland site.
Suffolk species