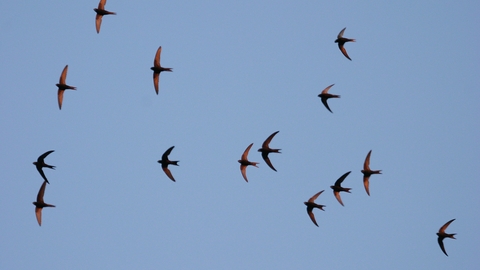 Wildlife Live Webinar - Secret life of Swifts
Location:
Online event,
Zoom webinar
A journey into the secret lives of swifts, covering identification, lifestyle and the threats they are facing.
About the event
Swifts spend most of their lives flying – even sleeping, eating and drinking on the wing – only ever landing to nest. Their have drastically declined over the past 25 years. In this webinar, Simon Hooton will look at the actions being taken through Save our Suffolk Swifts [SOSswifts] and how you can play your part to see if we can help their recovery.
Simon Hooton is an experienced conservationist who has been active in the integrated conservation management of land and water covering most East Anglian habitats. He is a passionate communicator about our environment and has a personal involvement with the Save our Suffolk Swifts project, which spans many years.
This Wildlife Live Webinar is part of a new series of online events on a range of wildlife topics. It is scheduled to last approximately one hour plus a questions & answers session. We use the Zoom platform for our Webinars and, when you book, you will receive simple instructions on how to join the event from the comfort of your own home.
TO AVOID DISAPPOINTMENT, WHETHER PAYING BY PAYPAL OR CREDIT CARD, PLEASE RETURN TO COMPLETE YOUR BOOKING BY PRESSING THE ORANGE 'PLACE BOOKING' BUTTON. YOU WILL NEED TO SCROLL DOWN TO COMPLETE THE ENTIRE FORM WITHIN THE ONSCREEN BOX. 
Booking
Suggested donation
Suggested donation £3/£5/£10
Future Webinars taking place with Suffolk Wildlife Trust