Help nature thrive on your farm 
Our mission is to make Suffolk the nature-friendly county. Farmland is a vitally important habitat for many species and there are huge opportunities in Suffolk to help improve our farms to enable nature to thrive. 
Suffolk Wildlife Trust has been working with farmers and landowners for many years, offering advice and expertise to help increase biodiversity and improve habitats for Suffolk's wildlife.  
Suffolk Wildlife Trust Farmland wildlife advice leaflet
If you'd like to find out how we can help your farm, please contact Jenny Rawson, Farmland Wildlife Adviser:
We are looking for Farmland Wildlife Volunteers to help with survey work on farmland near you:
Bringing nature back to Suffolk's countryside, including our farmland, underpins our vision for a wilder Suffolk.  If you are a member of the farming community and would be interested in supporting and influencing the strategic direction of the Trust as a member of our Board of Trustees, we would be pleased to hear from you.
About Jenny
Jenny studied Geography at the University of Plymouth and then went on to work as an ecological surveyor, gaining skills in wildlife identification and monitoring. Prior to joining Suffolk Wildlife Trust, Jenny worked at Herts & Middlesex Wildlife Trust for 10 years, with responsibility for planning and delivering practical management on 20 nature reserves in East Hertfordshire; including woodland, wetland and grassland sites. Jenny has a detailed ecological knowledge and understands the practicalities of managing productive farms for nature.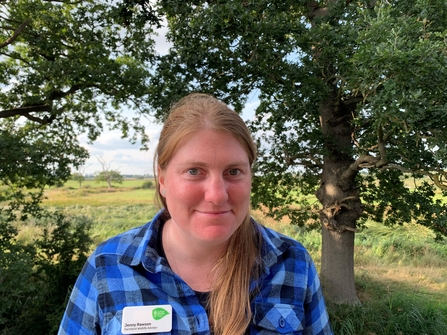 Our Farmland Wildlife Advice includes: 
Management and restoration of existing habitats 
Creating new habitats within your farm 
Guidance and advice on applications to environmental land management schemes 
Support for farming groups 
Guidance and advice on environmentally-sound farming practices 
Farms receiving our advice will have the opportunity to have their measures assessed through surveys and reporting. Wildlife that can be supported include a wide range of farmland birds, pollinating insects, watervole, nightingale, dormouse, amphibians, hedgehogs and stag beetle.
Suffolk Wildlife Trust - Farm wildlife, monitoring and surveying