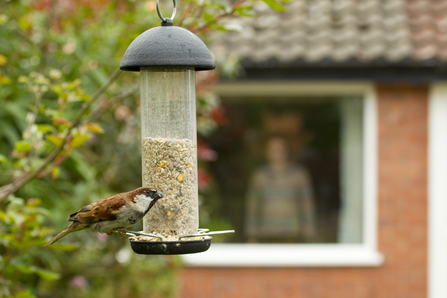 Many people like to supplement their garden birds' diet with extra food – especially in the winter. This can be a real life-saver in harsh weather and what benefits the birds also benefits us, by the addition of beautiful wild creatures and hours of entertainment.
There is also an important knock-on effect for the Living Gardener – birds will get used to searching for food in your garden and will search for greenfly, caterpillars and snails during the rest of the year.
When to feed
Although a fair proportion of our birds migrate south in the winter in order to carry on eating their main food-source, insects, our resident birds have to compete with birds, such as thrushes and blackbirds, that have migrated here from northern countries, such as Scandinavia. After the glut of autumn fruits has passed, and insects are no longer flying, winter is the time to feed the birds.
When to stop
There are two schools of thought on this. One says you should stop (gradually) once winter is over and more natural foods are available; the other says that stopping increases the stress to birds when they are already under pressure building nests and defending territories. 
You could strike a happy medium and switch to other foods, perhaps hanging up the bone from the Sunday joint, or other such high protein food. There should be plenty of natural food available in the garden in summer, with caterpillars, greenfly etc. in abundance, but many people do decide to continue feeding, especially with wild bird seed mix.
Tables, feeders and on the ground
Different species of birds have different feeding habits. Hanging food is ideal for members of the tit family but make the site high enough so it is out of range of cats. A good idea is to put it near to roses or other shrubs where you may have trouble with greenfly – they will be found too.
Bird tables are suited to most types of bird and have the benefit of being off the ground so other foraging animals like mice and rats can't get at it. It's also worth remembering that food should not be too close to nest boxes as the busy atmosphere will put the birds off nesting.
Many birds prefer to eat on the ground, so you can put food on the lawn but well away from shrubs which can be hiding a cat. Try not to put too much out at once and remove any food still there at nightfall to prevent a population explosion in rodents.
If you have old trees, you can smear fats and fix nuts into crevices in the trunk, which nuthatches, treecreepers and woodpeckers will adore.
Remember to clean your birdfeeder or bird table regularly.
Fresh water should be provided at all times, in a shallow container so birds can drink and bath without danger of drowning. If the bird bath is on the ground or in the form of a pond, then other animals, such as hedgehogs will use it and it is important to have sloping sides so that animals can get in and out.
What to feed
• High energy foods, various nuts and seeds.
• Leftovers, eg cake, cooked rice are fine, but no spicy or salty foods or items that have "gone off".
• Apples, cut in half and put on a table or the ground are excellent for blackbirds and robins.
Vine House Farm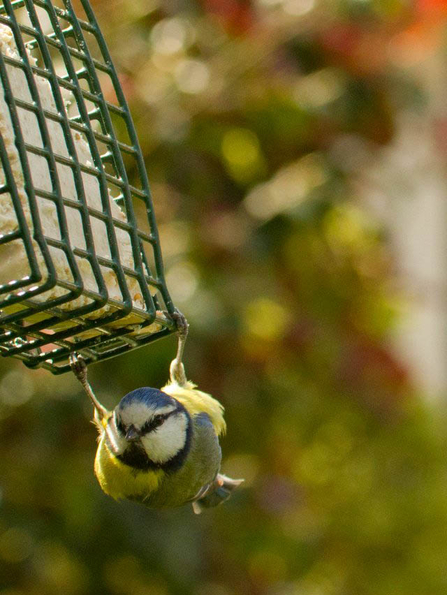 The Trust has a strong partnership with Vine House Farm, who offer a wide range of wild bird foods and feeding stations that are grown on its conservation award-winning site in East Anglia.
Buy your bird food and feeders from Vine House Farm Bird Foods and they will give £10 to Suffolk Wildlife Trust for every new customer, with 4% of ongoing sales to the Trust too.  So not only are you caring for the birds in your garden, you are also supporting your local Wildlife Trust in looking after the wild places on your doorstep.