We are the County's leading forest school provider with 10 forest school Level 3 Leaders covering the whole of Suffolk. We can lead forest school at your local woodland, on a nearby reserve or in your school grounds.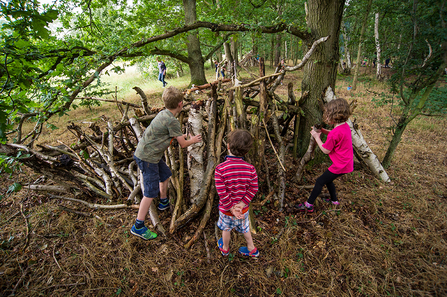 Forest School uses the natural resources in the woodland and the children's interests to stimulate imaginative, creative and investigative activities; Children can saw wood, whittle sticks, help to light fires, leap into puddles, climb trees and build shelters.
The child led and child centred activities help children to take risks safely, take care of themselves and others and take responsibility. It has structure but at the same time leaves lots of room for personalised learning opportunities – children are allowed time and space to explore their own interests e.g. studying a bug, searching for badgers, filming with a stick.
Forest School
A forest school programme over 6+ sessions is a unique experience, with children growing in confidence and gaining independence. Exploring nature at their own pace, children learn to investigate, take risks safely, solve problems and gain knowledge through first hand experience.
If you are interested in Forest School for your school please contact Sara Holman who can put you in touch with a member of our team.
Forest School activities for families
Many of our sites now offer family Forest School sessions:
Accredited Forest School training
OCN accredited training courses for Forest School practitioners