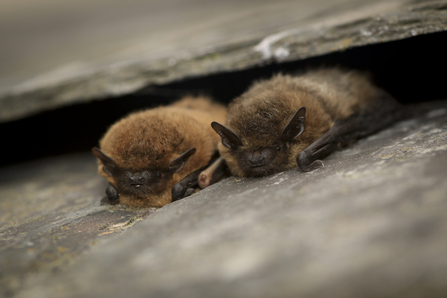 Suffolk Bat Group was formed in 1983 as a specialist group within Suffolk Wildlife Trust and is the county's main point of contact for all bat conservation related issues.
It is now one of 90 bat groups nationwide, affiliated to the Bat Conservation Trust.
Over the years much effort has been put into protecting, enhancing and creating hibernation sites, carrying out surveys using bat detectors and computer software, establishing bat box projects and carrying out specific surveys on barns and churches. Over 2,200 records have been collected on 13 species, this includes the discovery of two species new to Suffolk and the rediscovery of one species after many years absence from the county.
In addition to surveying and practical conservation the group also provides training on bat identification, ecology and sound analysis. Group members also volunteer to assist Natural England in protecting bats through advising householders, churches and landowners.
Currently there are around 50 members in the group with at least half regularly participating in practical bat conservation.
 
Distribution atlas for bats in Suffolk (1983-2016)
Suffolk Bat Group has produced a new distribution atlas for bats in Suffolk, showing the spread of different bat species throughout the county. The atlas updates the one produced in 2012 and shows how the increase in recording activity and improvements in bat detecting equipment have continued to increase the number of bat records collected. A copy of the new atlas can be downloaded here. The previous atlas can be downloaded here.
Need Help with a Bat?
If you find a sick or injured bat, please contact the National Bat Helpline on 0345 1300 228.
For out of hours queries please see the Suffolk Bat Rescue Facebook Page for further help and advice.
Need more information?
Suffolk Bat Group
01473 890089
Contact us
Bat Conservation Trust
0345 1300 228
Natural England
0300 060 3900
Suffolk Bat Rescue
Useful bat links:
Suffolk Biodiversity Information Service
The Suffolk Naturalists' Society 
Useful contacts:
The Bat Conservation Trust
5th floor, Quadrant House
250 Kennington Road
London, SE11 5RD
National Bat Helpline: 0345 1300 228
E-mail: enquiries@bats.org.uk
Web: www.bats.org.uk
Natural England
Tel: 0300 060 3900
E-mail: enquiries@naturalengland.org.uk
Web: www.gov.uk/government/organisations/natural-england
Other Bat Groups:
Norwich Bat Group
E-mail: info@norwichbatgroup.org.uk
Web: norwichbatgroup.co.uk
Cambridge Bat Group
E-mail: info@cambsbats.org.uk
Web: www.cambsbatgroup.org.uk
Essex Bat Group
E-mail: secretary@essexbatgroup.org.uk
Web: www.essexbatgroup.org.uk
Mid Anglian Bat Group
E-mail: midanglianbatgroup@gmail.com