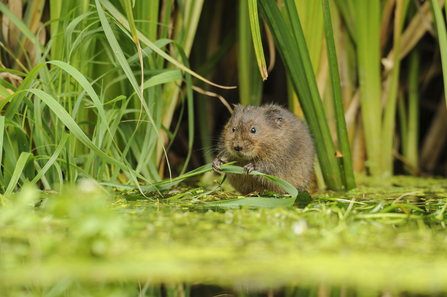 Water for Wildlife in Suffolk is part of a unique partnership supporting wetland conservation at Wildlife Trusts across the UK. Suffolk Wildlife Trust's Water for Wildlife Project aims to make a major contribution towards the restoration and protection of wetland habitat and wildlife, delivering practical conservation benefits for a range of important species and habitats and raising awareness of the importance of wetlands as a living landscape for people and wildlife.
The Project has been running since 2003 and is funded by Anglian Water, Essex & Suffolk Water and the Environment Agency.
Water vole
Suffolk has a great resource of potential water vole habitat with river valleys, coastal grazing marshes, ponds, ditches, lakes, fens and reedbeds. Since the project started in 2003, every river catchment in the county has been surveyed for water vole, and the results showed a dramatic decline in water vole populations since the previous county survey done in 1998. Habitat loss and predation by American mink, a non-native species, exacerbated this situation as they can wipe out whole colonies of water voles in only a matter of months. This accelerated the rate of water vole decline during the 1990s.
Having established the water vole's precarious status in Suffolk, the Water for Wildlife Project focussed on the two main factors responsible for this unprecedented decline:
• working with landowners to improve management practices to improve water vole habitat and to ensure all protected species legislation is followed
• setting up a mink control programme throughout the county to reduce predation on water vole
The good news is that further surveys from 2007-2010 confirm that with mink control in place, water vole have made a recovery throughout our water-courses and are once again a feature of river habitat. In 2018 water vole surveys are being undertaken on six river catchments in the county, using the same methodology as earlier surveys. This will enable comparison with previous survey data and an up to date picture of water vole distribution in the county to be established.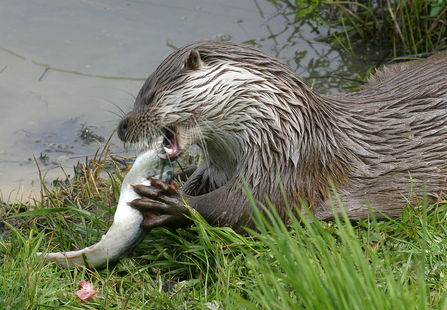 Otter
Otter distribution has increased significantly in Suffolk in the last fifteen years and the animals are now widespread throughout our river catchments and along the coastal waters. From 2004-2012 otter activity was monitored each winter by an enthusiastic team of volunteer surveyors, who undertook an annual survey of the county's rivers. The survey was repeated in 2017 and the results are currently being collated for comparison with previous surveys.
Stillwater fisheries, fish farms and garden fish ponds provide otters and other predators with an easy and abundant food supply and are at risk of being found by an otter even if they are some distance from a major water-course. There has been concern from fishery owners/managers for some years about the increase in otter predation, and in response to this concern, the Environment Agency, The Wildlife Trusts and the Water for Wildlife partnership published guidance on how to manage the impact of otters on fisheries ('Otters and stillwater fisheries', 2008). Otters are a fully protected species and therefore the only advice is to prevent otters accessing fishing lakes by installing otter proof fencing. The publication offers detailed specifications for this.
Non native species
Non-native species are causing major problems in the countryside as they spread rapidly taking over rivers and ponds and choking the native flora. If you think you have seen: water fern, parrots feather, floating pennywort, Japanese knotweed, Himalayan balsam or New Zealand Pigmyweed, please contact the Trust with a grid reference of the location. If you have any of these plants in your ditches, ponds or streams, and would like advice on how to manage them, please contact the Project Adviser.
LEGISLATION
European otter (Lutra lutra)
Otter are protected by the Conservation of Habitats and Species Regulations (2017) and the Wildlife & Countryside Act (1981) (as amended). It is an offence to intentionally kill, injure or trap an otter or be in possession of a live or dead otter or any part of one or intentionally damage, destroy or obstruct access or disturb any otter shelter or animal while occupying such shelter.
Water vole (Arvicola amphibius)
Water vole are protected by the Wildlife & Countryside Act (1981) (as amended). It is an offence to intentionally kill, injure or take a water vole; possess or control a live or dead water vole; intentionally damage, destroy or obstruct access to any structure or place which water voles use for shelter or protection, or disturb water voles using such a place.
Suffolk Mink Control Programme
As part of our water vole conservation work the Water for Wildlife Project set up and co-ordinates mink control in Suffolk. There are over 300 landowners borrowing mink traps and rafts and since the project began over 2500 mink have been trapped. Water vole are now returning to river catchments where mink control is ongoing. SWT is now working with the Norfolk Mink Project to undertake mink control along the River Waveney that borders Suffolk and Norfolk.
If you think mink are causing a problem on your land and would like to join the project, please contact us.
River restoration
In 2012-2013 we completed walkover surveys of 400km of our rivers for the Environment Agency and projects to enhance, restore re-naturalise our rivers are underway. Major river restoration projects have now been completed on a number of the county's rivers, including the Little Ouse at Knettishall Heath and Blo Norton under the direction of Dr Nigel Holmes and EA.
Working with the available substrate within the channel, new shoulders, riffles and pools create a sinuous channel bringing the river to life with new energy. Channel diversity is restored creating a self cleansing water course enhancing the habitat for river wildlife.