Weekly wild news from our reserves - 19 February
This week our Reserve Wardens admired an amazing ancient crab apple tree, spotted a great white egret and scarlet elf cup fungi. We also said goodbye to the snow, and reserve management work continued.
Bradfield Woods uncovered
Working a new area of coppice (coupe) can reveal some unbelievable treasures after 25 years of growth. Giles Cawston, West Suffolk Woodlands Warden, highlighted this giant crab apple amongst the existing stools and standards. Giles said 'crab apples trees are generally confined to hedgerows and scrub, being not particularly fast growing. To find this fully mature specimen at Bradfield once again shows the rich history of the woods and our deep connection with this very special nature reserve.'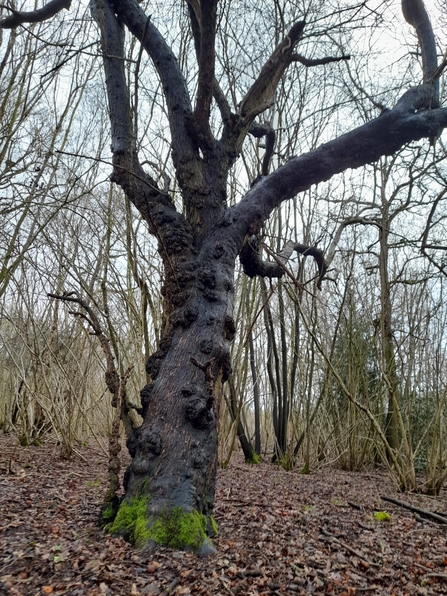 Great white egret
Matt Gooch, North Suffolk Sites Manager, has been spotting this great white egret almost daily in the dykes at Carlton Marshes. Compared to the little egret, the great white egret is enormous, almost as large as a grey heron. A few decades ago, records of great white egret were less than annual, but many now winter in the UK and a few pairs even nest here. They are found in all kinds of wetland habitats, often standing in shallow water, waiting for fish, insects and amphibians to approach, which they spear them with their dagger-like bill.
Scarlet elf cup
This scarlet elf cup found at Lackford Lakes this week displays bright red cups with very short stems. Joe Bell-Tye, West Suffolk Reserves Assistant said 'they can be seen in late winter and early spring on fallen twigs and branches (often hazel, elm and willow), usually buried under moss. It is reasonably widespread and can be locally common and mostly found in damp, shady areas.'
Fungi belong to their own kingdom and get their nutrients and energy from organic matter, rather than photosynthesis like plants. It is often just the fruiting bodies, or 'mushrooms', that are visible to us, arising from an unseen network of tiny filaments called 'hyphae'. These fruiting bodies produce spores for reproduction, although fungi can also reproduce asexually by fragmentation. The scarlet elf cup is very similar in appearance to the ruby elf cup (sarcoscypha coccinea), although the latter is slightly smaller and deeper red in comparison.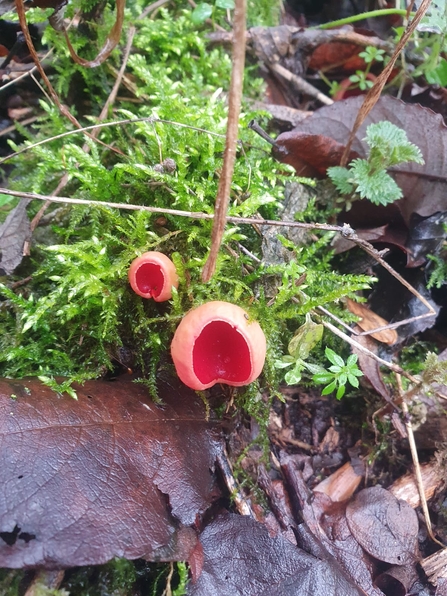 Preparing for spring bird surveys
Jamie Smith, North East Suffolk Warden, has been cutting bunds at Hen Reedbeds this week. The paths are cut in the reed to facilitate our upcoming spring bird survey work.
Lound Lakes after the big freeze
Andrew Hickinbotham, Lound Lakes Warden, had some extra work due to the recent cold snap, including thawing out the hose pipe! With the snow now nearly thawed, there is a hint of spring in the air at the reserve.
Church Farm tundra
At the start of the week Dan Doughty, North Suffolk Assistant Warden, found Church Farm resembling a frozen tundra, both in appearance and temperature!
Wooden ox keeps work on track
Alex Lack, West Suffolk Woodland Assistant, was thanking Zhuge Liang this week for his invention of the single wheeled cart or wheelbarrow as we know it today. The trusty single-wheel, two-leg drive model enabled access through Bradfield in the snow and ice to keep our conservation coppicing on track for the season. Zhuge Liang was Prime Minister of Shu Han in 231 A.D. and called his device a 'wooden ox'.