Weekly wild news from our reserves - 19 November 2021
This week our reserve teams and volunteers built a muntjac barricade, saw several snow buntings, a feathered thorn moth and more fabulous fungi.
Muntjac coppice barricade
Our wonderful volunteers at Newbourne Springs have been busy coppicing hazel and then constructing a dead hedge barrier to prevent muntjac browsing the fresh, new growth and thereby killing the trees. We hope they didn't pen themselves in in the process!  
Coppicing is an ancient form of woodland management that involves repetitive felling on the same tree stump near to ground level. This allows shoots to regrow from that main stump which is also known as a coppice stool. Coppicing an area or compartment of woodland allows more light to the woodland floor, encouraging regrowth of a wide range of flora including the trees themselves, with knock-on associated benefits for other wildlife. Rotating this cutting practice across the woodland maximises age structure and allows for successional stages to create all important 'edge' habitat. 

Snow bunting sightings
Five snow buntings were spotted at Trimley Marshes recently, including this one snapped by Trimley regular Carl Earrye. There have also been several sightings along the coast, so do keep your eyes peeled if you take a beach walk. Snow buntings like Suffolk's vegetated shingle beaches where they can feed on loose seeds almost completely unnoticed until the flock flies quickly to another patch of ground. 
Snow buntings have a breeding stronghold around the artic circle, moving south in winter to escape the extremities of weather and find food. Typically, between 10-15,000 snow buntings overwinter in the UK and tend to be scattered in small flocks along the coast.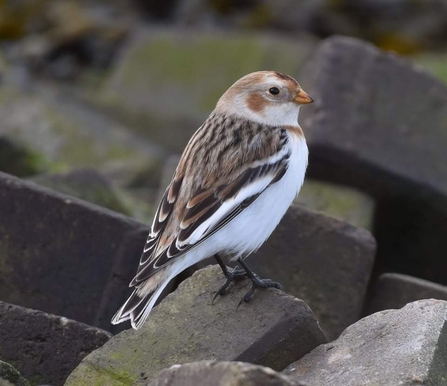 Late flight
The feathered thorn is a distinct late-in-the-year night-flying moth which you can see right into December. The rich reddish-brown adults rest with wings flat and have a slightly hooked tip to the forewing. The males have broadly feathered antennae. Usually found in broadleaved woodland, parks and gardens. Winter is spent as an egg on the foodplant before caterpillars emerge between April and June. Caterpillars feed on a variety of broadleaved trees, including birch, hazel, hawthorn, blackthorn, crab apple, dog-rose, goat willow, black-poplar and elm.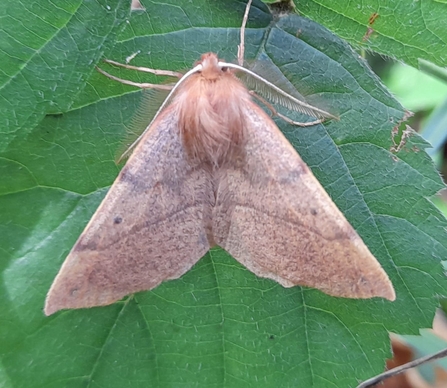 Inkcaps
Sprouting from tree stumps or buried wood of broadleaf trees, the glistening inkcap (Coprinus micaceus) depicted here with peach-like colour, appears in small to medium-sized clumps from spring until early winter. It's relative, the common inkcap (Coprinopsis atramentaria) is found on grassland and disturbed ground and is also known as 'tippler's bane' due to its toxicity if consumed with alcohol. These lovely inkcaps were both seen at Lackford Lakes, a fantastic reserve for fungi as well as the bird life it is famous for. 
Woodland elf
If you find a dead branch in the woods stained a beautiful turquoise colour, you can be certain to have found the striking 'green elf cup'. Or evidence of the fungus at least - as it's the mycelium that turns its host this vivid blue green colour. The wood that this fungus infects, known as 'green oak', was highly prized by fine woodworkers in the 18th and 19th centuries, who used this to great effect in their intricate inlays for decorative wooden boxes. Crafting mosaic patterns from different pieces of stained wood like this was the signature craft of woodworkers who made 'Tonbridge Ware' of Kent. There are very few green mushrooms in the fungus world, and almost no others that resemble these unique little cups so you can be confident that anything teeny tiny and turquoise will be this. Look closely, and you'll see they are attached to the substrate by a very short stem. The cups flatten out with age to resemble little discs.