Weekly wild news from our reserves - 4 December
This week: our amazing coppicing volunteers return to Bradfield Woods, a great white egret and some frosty and misty scenes.
Buzzing Bradfield
This week we welcomed back a small team of volunteers to help with coppicing at Bradfield Woods. Giles Cawston, Woodlands Warden said 'this is the first year we have undertaken the coppicing work at Bradfield without volunteer support and boy, do we know it! Like so much of the Trust's work, volunteers underpin so much of what happens on the ground and winter in the wood is no exception. They'll be sorting out the grades of timber into hazel rods, bean poles, fence posts and building spars whilst I chainsaw through the coupe we're managing on a 25-year rotation. The area we are working through this year has some particularly large standard trees which will be left to grow on to full maturity'.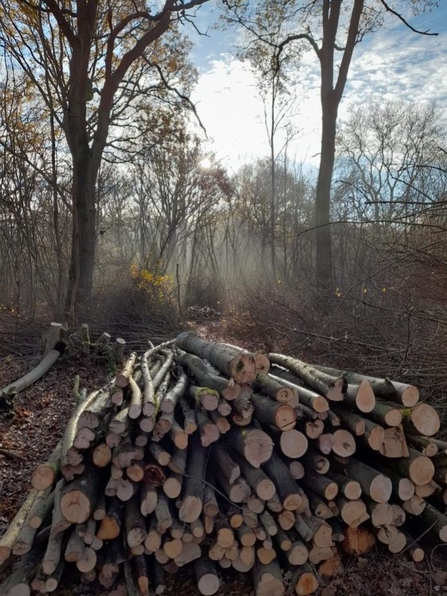 Great white egret at Hen Reedbeds
Assistant Warden, Dan Doughty, snapped this great white egret at Hen Reedbeds this week. As its name suggests, the great white egret is much larger than the little egret, similar in size to a heron but with longer legs and a longer neck. These striking birds stand in shallow water, waiting for fish, insects and amphibians to approach, then spear them with their dagger-like bill.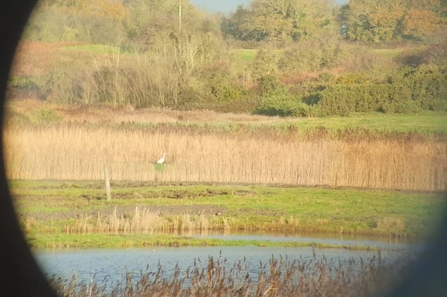 Watching a teddy bear's picnic
Crisp and bright early mornings at Knettishall Heath nature reserve can be quite simply breath-taking. With leaves now fallen, the open branch structures reveal more secretive views across the reserve where you might get a glimpse of the Exmoor ponies huffing out breath on frost-covered vegetation. Sam Norris, Reserves Warden, says 'the Exmoors are a really hardy breed of pony, grazing the heath throughout winter with their already developed thick coats which make them look like teddy bears! If the weather turns for the worse, they find a sheltered spot in one of the many undulations on site, or behind some particularly thick pine trees where they share body heat by huddling together. As wild animals we encourage visitors to watch them from a distance and try to distinguish the characters amongst the group. There are seventeen ponies extensively roaming Knettishall at this time, the youngest being four years old and our matriarch aged twenty-five'.
Misty and murky
The mist has been a feature again this week, making for some slightly eerie scenes!