Weekly wild news from our reserves – 5 November 2021
This week our reserve teams solved an owl pellet mystery, found a rare moth and saw some exceptionally early signs of spring as they continued with essential habitat management.
Golden brown fern moth
Volunteer Anthony Wren found Suffolk's third record of golden-brown fern moth (Musotima nitidalis) on the wall at Carlton Marshes where it was attracted to an outside light. M.nitidalis is native to Australia and New Zealand and was first found in Dorset in 2009, and since then there have been several records scattered in the southern counties. This moth is suspected to have been imported into the UK on tree ferns, which the larvae feed on.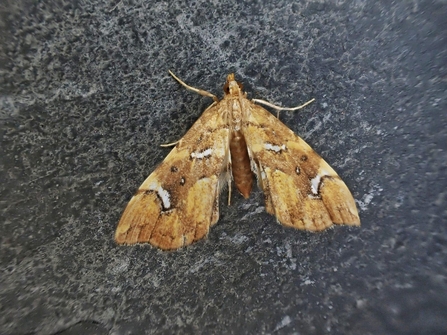 Owl pellet mystery solved!
During our Halloween owl pellet evening families had fun discovering what the owls have been eating at Carlton Marshes. Barn owls mainly eat small mammals such as voles, mice and shrews and less frequently rats, birds and frogs. To our amazement, a child pulled out a bird's leg complete with a ring! Rings are used to keep records of birds and their movements all over the world. We sent our findings to British Trust for Ornithology who confirmed the bird ring was that of a grasshopper warbler which had been ringed on Gibraltar Point Nature Reserve in Skegness back in 2019.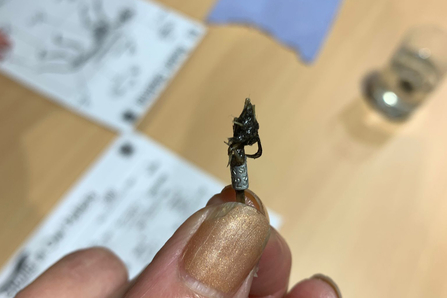 Times they are a changin'
Bradfield Woods Warden, Alex Lack spotted signs of spring on the nature reserve recently; wood anemone normally flower in March and hazel catkins are normally out in January-February time. World Leaders at COP26 take note of our weekly news findings please!
Island adventure
A little unknown, yet obvious fact about managing wetlands is that not everywhere has terrestrial access. Several nature reserves, like Lackford Lakes, consist of islands which can only be managed by way of a short boat trip.  Still, sunny, autumnal days are best for the job to avoid sea legs, as shown in this short film clip.
Headwaters under moody skies
During fen meadow clearing, The Little Ouse Headwaters Project (LOHP) and Suffolk Wildlife Trust often help each other out on work parties. This is because some of Thelnetham Fen is managed by SWT and the other parts are LOHP owned. We pool our volunteer teams and machinery on joint work party days, helping maintain the fen meadows, extending the rare fen habitat and increasing the fen biodiversity over a larger area. Great partnership working in action!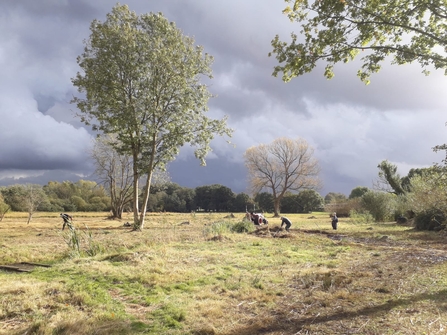 Clockwork orange
Early starts to the working day remain a little lighter for our staff and volunteer teams with the clock changes last weekend. At these times, the chance to witness a moment of wildlife magic is definitely improved, as are those golden breaks of dawn that simply make us feel good.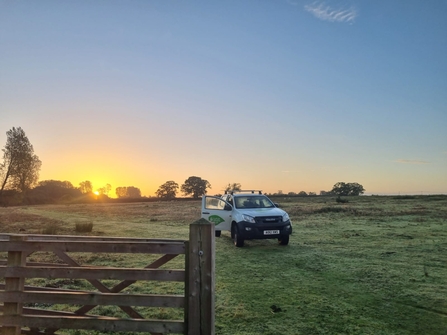 Golden hour at Dingle Marshes
Another stunning scene at Dingle Marshes shows why photographers call the hour just before sunset 'the golden hour'.