Suffolk is losing its swifts. In the 30 years to 2014 numbers have almost halved – and this is happening across much of the UK. Developments in construction, renovation and insulation have seen entrances to swift nest sites sealed off, with devastating results.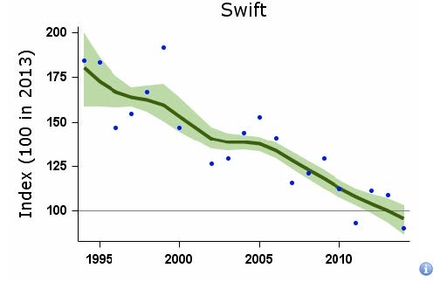 This graph shows the results of the BTO/RSPB/JNCC Breeding Bird Survey for Swifts. The left hand scale is an index (set at 100 in 2014), representing the overall number of Swifts. The dark green line is the best fit through the data points and the paler green band shows us with 95% confidence that the decline really is a significant one.
The reasons for these losses are complex. There is much less insect life for Swifts to feed on in the air above us, probably due to long-term changes affecting our countryside. However, Swifts are also very dependent on holes and crevices in buildings for their nest sites, so it seems safe to assume that a major part of the problem lies here.
If older buildings are demolished to make way for new developments, this can remove long-­‐standing Swift colonies at a stroke. Equally, maintenance and repair work on existing buildings, particularly to roofs and eaves, can mean that nest holes may be completely blocked up. This is often carried out unwittingly, as breeding Swifts may be difficult to detect – they are so fast in and out of the nest and are remarkably clean birds too, so they don't betray their presence easily. It can be particularly disastrous if demolition or repair work takes place during the breeding season -­‐ between May and August -­‐ as more than one generation will then be wiped out.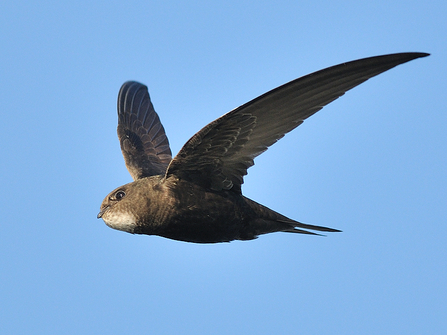 Habitat and lifestyle
In historic times, swifts nested in natural holes in cliffs and trees, but since Roman times, the majority have successfully exploited crevices in stone and brick buildings, nesting in eaves and gables, holes in walls and under the irregular Suffolk pan-tiles. But changes in building techniques has hit swifts hard. Swifts spend almost all their life in the air. They are the only bird to feed, drink, mate and sleep on the wing - they only land to breed. At night they roost at an altitude of over 3,000 metres. A young swift will spend its first two or three years in constant flight before it breeds.
Swifts are in the UK for just three months each summer, then they migrate to Central and Southern Africa to spend our winter there. While they are with us they fill our summer evenings with aerobatic, amazingly fast flight and their trademark 'screaming'calls.
Under threat
In Suffolk we are losing our swifts fast. Between 1994 and 2007 we lost over half of the swifts breeding in south east England.
If you are lucky enough to have swifts nesting in your home or community space please leave their existing nest places undisturbed. If you are re-roofing or replacing soffits & bargeboards, make new access holes to match the old ones exactly.
It is far better to create internal nest spaces than external ones as the former have longevity built in - if you cannot do this fit external nest boxes.
Making a space for swifts
If you want to create a swift nesting area in your own building, or as part of a community initiative - there are a number of ways you can do this. Built in is the best way as this encourages longevity, safety and needs minimal maintenance. There is a huge variety of ways to do this, from installing commercial "swift bricks" in block work walls, to making dedicated box eaves, to ingeniously creating holes in suitable walls.
There's also a wide variety of retro-fitted ready-made swift nest boxes on the market - of designs to suit most applications. You should be able to find a nest box suitable for your site. Find out more
Swifts are trouble-free tenants
As swifts spend much of the year in southern Africa and are only in the UK from late April to August, they only spend about 10 to 12 weeks in their nests.
They prefer to nest inside a building and need a few inches around the entrance to safely enter and leave. Unlike other birds, they don't usually leave piles of droppings under their nest places.
Swifts in Suffolk

SOS Swifts was established in 2014 to add support to the national effort to raise awareness of the threats faced by swifts. It is a joint initiative between Suffolk Wildlife Trust and Suffolk Ornithologists' Group. Each year the year the group holds a series of swift conservation information events. 

If you use Twitter please let us know when you see your first swift each year by using #SOSswifts 

You can also record screaming parties and nest sites via the Suffolk Biological Records survey form.

If you see re-roofing work going on in May, June, July or early August on houses or buildings where swifts are nesting (low screaming flight around the building and/or access in and out of eaves, ventilators etc. are key signs) contact Suffolk Police's Wildlife Officer.

If there are any signs that the swifts are being physically harmed contact the RSPCA's 24-hour Cruelty and Advice Line: 0300 1234 9999.

Please also alert Natural England who investigate work that threatens swifts. Take photographs if you can and always keep a note of observations and conversations.

If there is redevelopment where swifts are active you can contact your local planning authority, pointing out that there is a population of a protected species active at the site. Request that work does not take place during the birds' breeding season (May to August), and that nest sites are maintained or alternative nest places are installed.

At the planning consultation stage of a new development you could request that the developers incorporate swift nesting facilities. 
The swift conservation community

For further information on swift conservation, swift box installation, recording swifts and swift rescue, please refer to our SOS Swifts Information Sheet

In addition to SOS Swifts activity, there is a thriving community of dedicated individuals and groups who are working to halt the decline of swifts. Here are a selection: