In memory of a wonderful conservationist: Grenville Clarke
We are deeply saddened to hear of the passing of our former Chairman, Grenville Clarke.

Grenville was a life-long naturalist who cared deeply about people and wildlife, and he was hugely committed to Suffolk Wildlife Trust. Grenville, and his wife, Elizabeth, have very kindly asked for donations in his memory to be made to the Trust.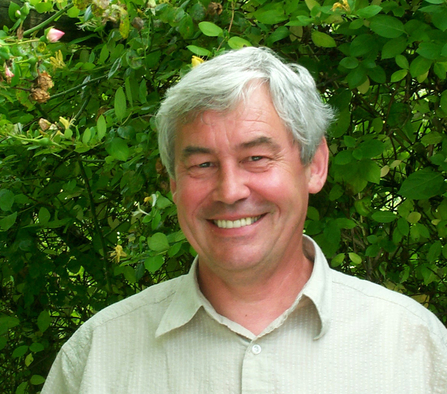 In 2020 Grenville was awarded both the British Empire Medal and the county's highest honour, The Suffolk Medal, for his selfless contribution to Suffolk, its people and wildlife.
In celebration of Grenville, we are pleased to share this article from April 2020.
Suffolk Medal awarded to Grenville Clarke
Monday 27 April 2020
Grenville Clarke, lifelong naturalist, has been awarded the county's highest honour, The Suffolk Medal. Julian Roughton explores Grenville's selfless contribution to Suffolk, its people and wildlife.
Grenville's interest in wildlife was sparked, at the age of 15, by being introduced to bird ringing on the Suffolk coast, studying migrant and breeding birds in the Blythburgh area. Since then, Grenville has devoted much of his life initiating and volunteering for environmental projects. 
During his 22-year involvement with Suffolk Wildlife Trust Grenville played pivotal roles in the creation of Lackford Lakes establishing this as one of the most important nature reserves in the county with the building of the current visitor and education centre. As a trustee and Trust chairman Grenville initiated a review of the Trust's governance which helped enable the Trust to become the strong organisation it is today.
Through his work with the Green Light Trust, Grenville has helped hundreds of disadvantaged adults and children benefit from the restorative and educational power of nature and inspired thousands of people to connect with their natural environment. He was instrumental in establishing 62 community woodlands across Suffolk and Norfolk, now owned by the communities which surround them.
Grenville is in the advanced stages of Motor Neurone Disease, despite his declining health, in the last few years he continued to mentor some new woodland groups, which are linked to primary schools enabling children to connect with nature in their local communities.
These achievements have come about because of his passion for the natural world and his strong sense of community. Grenville's warmth and calm approach has motivated thousands of people during his lifetime to improve the natural environment of Suffolk and beyond.
Grenville's words spoken by Elizabeth his wife:
"I was totally surprised when I learnt that I had been granted this award.
I have to thank those who, over the past 50 years, have given me the opportunity to have such a rewarding and enjoyable time with so many lovely people.
Green Light Trust and the Suffolk Wildlife Trust, in particular, have helped me undertake so many diverse projects and tasks which I would not have believed that I would have had the chance to be involved in.
This award is not just for me, but for all those who have preceded me and followed through with projects like the Community Woodlands with GLT and Lackford Reserve with the Suffolk Wildlife Trust.
With the Community Woodlands I estimate 700 people have formed Steering Groups to manage the projects. At Lackford, I joined an established group of volunteers who had already been managing the site, with the permission of the gravel extraction company.
Grenville also wants me to add that he would like to thank me for the support I have given him and that, with the help of village volunteers, I am still leading the Seed to Tree programme at All Saints Primary School. We work with all the year groups in the school Tree Nursery, in Frithy Wood and in Golden Wood.
The citation refers to the many people who speak kindly of Grenville and we all know that this award is not just about what he has achieved but is an acknowledgement of the love and respect we all have for him.
 Grenville is a wonderful man."
Suffolk Medal information by Tim Holder:
"The Suffolk Medal has been created as the highest award that can be made by Suffolk to an individual from Suffolk. The purpose of The Suffolk Medal is to recognise, reward and champion the exceptional contributions of Suffolk people that have made a fundamental and lasting difference to the county of Suffolk and its people. Suffolk will be asked to proactively seek out and nominate individuals from all areas of county life in the public, private and voluntary sectors, and across all activities of historic and future importance to the county.  Those eligible for consideration will have gone above and beyond expectations in making a significant individual contribution to their community and, indeed, will have made a similar impact on the Suffolk of today as the finest achievements of the very best of our forebears who inspired Suffolk in the past. A clear demonstration of outstanding volunteering, either as a single feat, an accumulation of personal impact over a period of time or, indeed, a lifetime of selfless service will all be key elements for consideration.  The Suffolk Medal has been exquisitely designed by the internationally renowned Suffolk artist, Maggi Hambling, reflecting her view of Suffolk. The medal is contained in a presentation box made of Suffolk walnut. Boxes and supporting certificates are individually numbered to personalise the receipt of The Suffolk Medal".