Week three of 30 Days Wild - camping, coprolites and summer solstice barn owl hunts
Wild Learning Officer, Lucy, looks back over week three of 30 Days Wild, and shares what our members of staff have been getting up to this week.
Day 15 – A whistle-stop tour of Reydon Woods!
Day 15 – Popcorn at the ready? Sarah Groves, our Communications Manager, started week three of 30 Days Wild with a whistle-stop tour of Reydon Woods, a Suffolk Wildlife Trust reserve close to her home. Capturing the woods in the beautiful dappled morning light, Sarah shared the sped-up footage from her Go Pro with us allowing us to experience the woods without having to leave our chairs… although we did have to hold onto them as we whizzed through!
Reydon woods used to look very different to the dappled woodland scene that we can see in Sarah's footage, however, and this site is a real testament to the resilience of nature. Once choked with conifers, a thick layer of pine needles covered the floor, a cry far from the rich hummus mulch that now carpets the ancient woods providing many species with habitat in which to thrive. Full of a variety of different species such as tawny owl, nightingales, blackcaps, common spotted orchids, ragged robin, lesser stitchwort and so much more, no wonder Sarah chose Reydon Woods to explore.  
Read more about Reydon Woods here.
Day 16 – If you go down to the woods today
Day 16 – Josh Archer, our Grants Officer, took us for a slower paced walk on Tuesday and shared photos from his visit to Groton Woods, a Suffolk Wildlife Trust reserve near to where he lives.
Groton Woods is a beautiful and unusual site with 22 seasonal ponds providing great-crested newts, frogs and toads with refuge. Adding to its uniqueness, this ancient woodland has a small-leaved lime coppice, which is an indication that parts of the woods have existed since prehistoric times, and wild cherry trees making it one of only a few ancient woodlands in Suffolk with this species.
"If you go down to the (Groton) Woods today, you may just be in for a surprise"…  with the rides full with a variety of different species including early purple orchid, violet helleborine, woodruff, pignut, treecreeper, nuthatch, woodcock and the three woodpecker species. Groton Woods also is home to 15 butterfly species including purple hairstreak and speckled wood.
Check out our website for more information on Groton Woods here.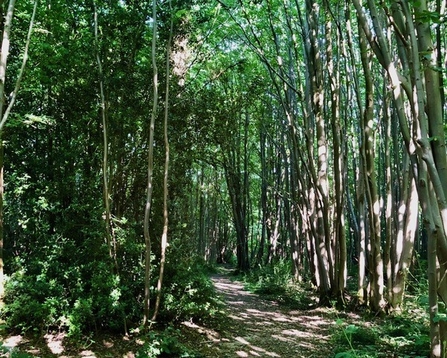 Day 17 – A coterie of orchids
Day 17 – Michael Strand, our Community Fundraising Manager, went hunting for orchids and was successful in finding a coterie of orchids. Michael came up trumps finding common spotted orchids, pyramidal orchids and bee orchids - a stunning orchid that looks like its name sake and lures in female bees in order become pollinated.   
Day 18 – Sign your name to help save our wildlife
Day 18 –The Wildlife Trusts actively work to protect wildlife on our reserves across the country and also work to safeguard and protect their future by securing legal protection, but we need your help and support in order to do this.
With that in mind, we thought that for day 18 we would share three of our current campaigns where we are asking you to sign your name in support for some of Britain's wildlife and habitats.
The Wildlife Trusts are calling for Highly Protected Marine Areas (HPMAs) which would offer the strictest possible protection for the marine environment, giving nature the best chance of recovery. By removing all pressures such as fishing and construction, our shallow seas, diverse seabeds and deep underwater canyons can become healthier, more productive and full of life once more. Without HPMAs, a continued decline in biodiversity is certain, losing our chance to help our seas recover.
Show your support and show the Government you want HPMAs by signing our petition. At the time of writing, we are just over 1000 signatures shy of our target, sign your name today to help us gather 5,000 signatures here.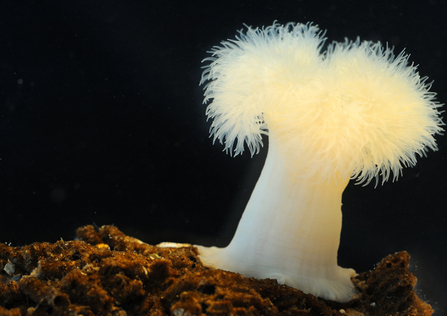 Beavers are back and it's time to get strategic! These amazing, native herbivores are truly nature's engineers, and they play a major role in helping nature to recover. Once thriving in our ecosystems but hunted to extinction, we want beavers to have a secure future, so it's important a beaver strategy for England is published soon. Help us by showing your support and sign your name here.
Will you take action to support the most important creatures on the planet? A third of all the food crops that we grow need insects to pollinate them and without insects, we risk ecological collapse – putting many species in danger such as birds, bats, reptiles, amphibians, small mammals and fish that rely on insects for food. Today, 41% of insects face extinction but it's not too late to help them. You can do your bit and take action here. 
What better way to help secure a safer future for our wildlife without even leaving the comfort of your own home.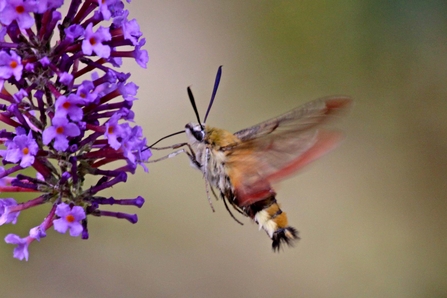 Day 19 – Lights, camera, action
Day 19 - Shaun Norris, our Membership Development Officer, took charge of day 19 and checked out the overnight and early morning footage from his camera trap investigating the different species that stopped by. Several birds including blackbird, goldfinch and starling were snapped and a pricklier visitor... a hedgehog! At this point I have to pretend I am not jealous of Shaun's garden visitor, as I haven't seen a hedgehog in Ipswich yet this year despite many an evening spent hunting around for them. This of course doesn't mean that they not here, Ipswich is known to have a great population of hedgehogs, it's possibly just that the hedgehogs of Ipswich are much better at the months' long game of hide and seek we have apparently been playing.
Shaun explained "I've built the hedgehog feeding station from recycled bits I've found lying around in the garage and succeeded in enticing hedgehogs in for food and had quite a few other interested parties too... and yes, the tent is in the garden ready for the Big Wild Camp out".
If you are feeling inspired by Shaun's recycled hog feeding station, check out our how to guide to build your own. I will certainly be having a go to try and entice them in.
Don't forget, Suffolk Wildlife Trust is collecting information on hedgehog sightings and we are asking you to log your hogs on our website to help us get a better understanding of our counties population. Click here to report your sighting.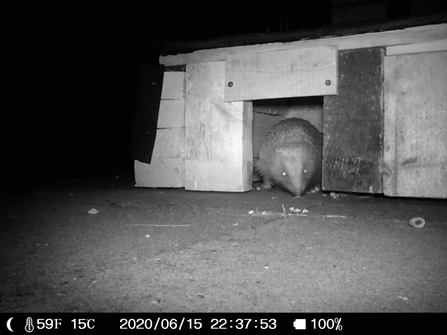 Day 19 also saw The Wildlife Trusts' launch our Big Wild Weekend and we were delighted to announce a star-studded line up to help celebrate the mid-way point of 30 Days Wild. Friday kicked off a virtual three day summer extravaganza with an evening of wild music, where we were transported into Sophie Ellis-Bextors' kitchen for her Friday night disco, popping outside for a breath of fresh air and acoustic music from Jack Savoretti and whizzing across to the Welsh Coast to listen to David Gray's Skomer Live performance all hosted by BBC Radio 1's Cel Spellman.
Don't worry if you didn't catch it on Friday night, you watch it again here. 
Day 20 – camping, coprolites and summer solstice barn owl hunts
Day 20 – Saturday was day two of The Big Wild Weekend and was timed perfectly for summer solstice. Sara Holman, Head of Learning, was back making us all hungry again, as she started off her Saturday in style enjoying a wild breakfast.
"We have been enjoying breakfast cooked over the fire - sausages, damper bread, bananas baked in foil and drizzled with golden syrup, tea (of course!) and homemade strawberry and banana smoothies - accompanied by the screaming of swifts circling the house and a blackbird singing from the top of one of the apple trees." What better way to start the day than this?
It was then over to me and deciding to seek out some shade from the heat of the day, I went searching for Suffolk's crag coprolites!
Coprolite is fossilised animal poo and shark and ray coprolites, identified by their spiralled appearance as both these species have spiralled intestines, can be found in Suffolk. Other animal's coprolites are found too and sulphate-rich nodules previously thought to be coprolites, were given the commercial name of 'coprolites'.
Dug from the area surrounding the Deben and processed in Ipswich factories, coprolite was a huge industry in 1840 -1890s and it solved the issue of a phosphate manure shortage needed to increase the production of beans, peas and grain. The factories are now gone, but Coprolite Street in Ipswich remains hinting at the areas' history.
A bonus of our Suffolk crag coprolite search was that a four-year search to find a shark tooth in this particular location was over! I finally found one! I cannot quite convey how excited I was. Now a new search for a spiralled ray or shark coprolite to add to my collection starts. Let's hope this one doesn't take four years!
Michael Strand, Community Fundraising Manager rounded off Saturday's activities by going on a summer solstice barn owl hunt and was lucky enough to find one! Often using posts to perch on in between flights to conserve energy and seen flying at dusk and dawn, barn owls fly low at about three metres above the ground searching for their small mammal prey. What a perfect way to end the day.
Day 22 – Wildlife from a canoe
Day 22 – Taking to the water in a canoe, Michael was back looking at wildlife from the water.
"One of the changes of behaviour when canoeing on wide open expanses of water is that your eyes tend to be drawn upwards towards the horizon and therefore the sky. Whilst out, we saw three kestrels and a pair of buzzards which might have otherwise been missed. The mudflats around Woodbridge and Martlesham creek are often populated by waders and waterfowl. During our 90 minute paddle we spotted oystercatcher, godwit, Canada geese, cormorant, and a drift of around twenty swans working their way across the river and upstream towards the tide mill. A group of swallows swung low across the water as we neared the town and cuckoo was heard in nearby scrubland edge."
To roundup The Big Wild Weekend, The Wildlife Trusts hosted a Big Wild Quiz with Trusts ambassador Sophie Pavelle and actor David Oakes with special guests invited to deliver quiz rounds. If you missed it on Sunday night, don't worry, you can still get a virtual team together and put your wildlife knowledge to the test and watch the quiz here. 
Unbelievably, it's fast approaching the last week of 30 Days Wild and our members of staff can't wait to get up to more random acts of wildness. Keep sharing what you've been up to, we love hearing from you.