Weekly wild news from our reserves, 5th June
We've noticed many more visitors to our reserves over the past few weeks as lockdown restrictions have started to ease. Spring is continuing unabated, with some lovely wildlife sights to be had across our county.
Wildlife makes itself at home at Foxburrow Farm
The slatted wooden walls of the pole barn at Foxburrow Farm allow for smaller wildlife to find its way inside to seek shelter from the weather, search for a suitable nesting site or scavenge the crumbs from a misplaced hobnob! With staff activity adapting somewhat over the past couple of months, frequency of visits to the barn seem to have opened new windows of opportunity for some of our smaller birds. Ben Calvesbert, Meadows and Heaths Warden, returned one day to discover that the pocket of his winter coat had been selected as the perfect nesting site for a pair of wrens and, in the corner of the barn, a redundant metal box was now home to the calls of a blue tit family.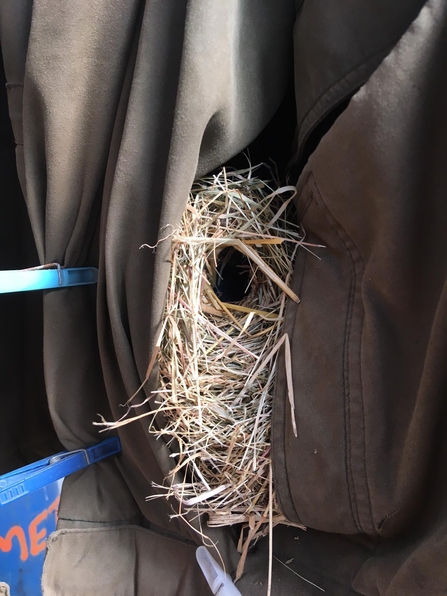 Species spotted in the sun at Captain's Wood
Captain's Wood is one of those magical Suffolk spots in any season you choose to visit but discovering its wildlife as you twist and turn around the figure of eight trail seems more rich than ever this spring. On a regular site safety visit, Steve Hook captured some of the species taking advantage of a warm and quiet early June morning. Images include cinnabar moth, four-spotted chaser dragonfly, a nursery web spider with egg sac, fallow deer and large red damselfly. Some young naturalists were also out and about, most probably doing one of their #30dayswild! 
A week of surveying on Sizewell Belts
Carl Ansell tell us about his past week on Sizewell Belts.
"It's the end another busy week at Sizewell. and this is the second week of our nesting bird surveys so early morning starts. The cuckoo is now a regular caller and a few days after first hearing it I noticed a number of reed warblers reeling away as they do – I wonder if they know what is in store for them should a female cuckoo spot an unattended nest! 
The marshes are blooming, with ladies smock (also known as cuckoo flower) everywhere interspersed with orchids and ragged robin stealing the show. I am pleased to see all areas are now being grazed with cattle including Goose Hill Marsh which has not had grazing for two seasons. There are some particularly interesting areas on this marsh with swathes of yellow rattle dotted amongst the orchids. 
Our freshly shorn sheep have joined the baggot goats to help graze habitat on an area known as Retsoms. It is near here that nationally rare natterjack toads have been spotted with tadpoles wriggling away in the pond. Butterfly and dragonfly surveys will be starting in earnest next week. As this is my first summer at the Belts, I feel particularly lucky to be around to discover the emerging species." 
Market Weston, a fantastic site for botany
Market Weston Fen is an unspoilt mosaic of dykes, scrub, fen and sandy ground and is a fantastic site for botany, being home to some 250 flowering plants. Here are just a few that have been spotted this week by our Reserve Wardens.
Common butterwort is an insectivorous plant of bogs and fens. Its flat star-like leaves secrete a sticky fluid which traps insects, then the leaves curl up around their prey to digest it. The plant has evolved this carnivorous trait to get extra essential nutrients. Its pretty, deep purple flowers give rise to its common names of bog or marsh violet. The name butterwort is thought to derive from the historic belief that rubbing the leaves on cows' udders would protect against bad butter! 
Yellow-rattle is a semi-parasitic flower of grassland. It can be useful in turning improved grassland back to meadow, as it feeds off vigorous grass species, eventually allowing traditional meadow species to thrive instead. When its tube-like yellow flowers fade, brown seed pods appear containing tiny seeds which give a distinctive rattle, hence the name. Yellow-rattle is an important food source for caterpillars of the rare moth, grass rivulet. 
An excellent food source for farmland birds, quaking-grass is a distinctive feature of meadows and grasslands. The heart-shaped purple seed heads shiver and quake in a gentle breeze, giving rise to the plant's many common names including 'totter grass', 'dithery dock' and 'toddling grass'. Yellowhammer and linnet are some of the farmland birds which feed on the seeds. 
Black bog rush is a type of sedge found in alkaline wetland marshes, fens, heaths and bogs. It has long thread-like leaves which grow in clumps and clusters of blackish-brown flowers in May and June. 
Once used as a medicinal tea for coughs and ulcers, heath speedwell is an edible herb of the plantain family. It has oval-shaped hairy leaves and pyramids of lilac-blue flowers with darker veins. Heath speedwell grows on heathland, woodland and grassland, and flowers in May and June. 
Like cotton-wool balls bobbing in the breeze, the fluffy white seed heads of common cotton-grass are unmistakeable. Common cotton-grass is actually a member of the sedge family, with narrow, dark green leaves and drooping flowers which form into the fluffy white seed heads. These seeds were once used to stuff pillows and also as wound dressings during the First World War. 
Kestrels Nesting at Trimley
We were delighted to get more footage of Kestrels nesting at Trimley this week, with one individual posing for a second for a close up.