This spell of autumn sunshine keeps the insects flying from damselflies and dragonflies to plenty of butterflies.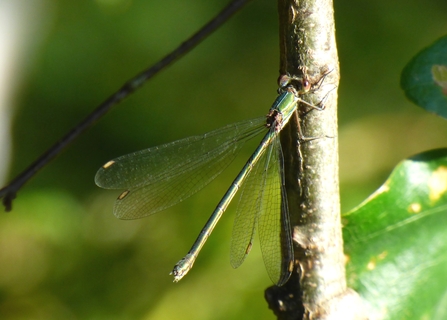 Lets start with willow emerald damselfly, these appear only at this time of year and in previous years were difficult to see but not this year.  They seem to be having a great year on the reserve, helping this species to colonise the reserve.  We are getting reports of this wonderful damselfly from all around the reserve including the kingfisher trail near the centre so now is a great time to come and see if you can find a willow emerald damselfly.  We have only started to see this species in the last few years on the reserve and up until this year, you would of had to be lucky to see one.
The migrant hawker dragonfly is also having a great year, will plenty still being seen around the reserve so watch out for this black and blue dragonfly hunting around our lakes.
The sunny weather has also kept the butterflies going with red admiral, comma, small white, speckled wood, peacock and brown argus all been seen today on the reserve.
Moving on to birds now.  Hobby seem to be giving us a great display before they leave us until next year.  At least three birds were seen on the reserve today with reports from all parts of the reserve.  Duck numbers continue to grow with lots feeding on the weed on the sailing lake.
Best locations for birds are as follows:
The sailing lake for plenty of ducks (gadwall, tufted duck, coot), 
The slough for more ducks (teal, gadwall etc) and the odd snipe indicating the start of autumn for our birds.
Long reach - for wigeon, little grebe and great crested grebe
Steggall's hide - for little egrets and grey herons