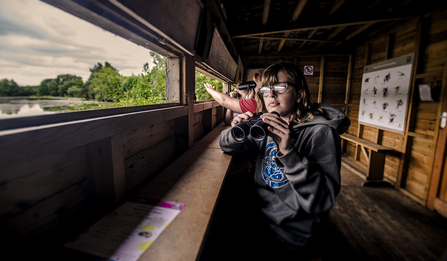 What a spot! We saw birds, insects, amphibians and mammals!
Visit Bernard's hide at Lackford Lakes for an intimate wildlife experience at dawn or dusk.
Bernard's hide exclusive viewing season runs mornings and evenings from March to October
Every morning, 5.00am-9.30am              5 places. £10 each.
Every evening, 4.30pm-10.30pm             5 places. £10 each.
Book your wildlife watch experience
Identify dates, please note you must book 7 days in advance
Create a 'user' login
Book and pay for your places
Note A. After payment has been accepted you will receive a confirmation email containing a link to directions, maps and all the details you need for an amazing wildlife watching experience.
Note B. Before midday on the Thursday of the week preceding your visit (weeks run Thursday afternoon to Thursday morning), you will receive an email from info@suffolkwildlifetrust.org with a bespoke code to access the key safe located at Bernard's hide. Please check you have received this code before heading out to ensure you can open the hide.
Once you are a 'user' you can book places at Lackford Lakes' Bernard's hide whenever you like.
Things you need to know
Every morning, 5.00am-9.30am
Every evening, 4.30pm-10.30pm
Suitable for children aged 7 and above only.
All places must be booked and paid for in advance.
Places are non-refundable unless cancelled by the Trust. For full details please refer to terms & conditions.
Access is by way of a surfaced track, suitable for wheelchairs and buggies. A fully accessible toilet is available at the visitor centre.
Bernard's hide has become one of our top wildlife viewing hides at Lackford Lakes.  However, we cannot guarantee you will see specific wildlife species.
For more information please ring 01473 890089 Mon-Fri 0830 - 1730.